25
Jun 10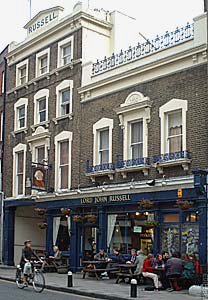 The Lord John Russell is a blue pub. It is the only blue pub I know. Blue on the outside certainly, plenty of pubs do that. But very few continue this motif indoors. But then this is part of the joy of the LJR. It is so clearly a proper pub, with its Pukka pies, and its reliably stinky toilets. The actual bar is a wonderful piece of bar woodwork, whenever I dream of a basic pub bar, slightly scuffed but impeccably stocked, I think of the LJR. And yet around the battered tables, the half used tables and this impressively stolid bar is sky blue, with some navy picking it out. I don't know why the blueness of this pub impresses me, but it does.
The other unusual aspect of the LJR is its massive windows. It is a wonderfully light and airy pub, something I probably wouldn't otherwise recommend in pubs, but then the LJR seems to do everything a bit backwards. I would normally be thoroughly irritated by a pub that insists on playing commercial radio in the background, but the LJR gets away with it. Yes it is quite near my work, and yes I go there a lot, but I think anyone can get seduced by its charms.
It helps that over the last ten years some truly wonderful things have happened there. A smiling sunflower aside, it is the most haunted pub I know with mysterious powercuts, beer spilling and other dodgy things being blamed on the unknown ghost (perhaps it is Lord John himself). It is the pub in which we invented Grey Beer (Budvar Black + Kronenberg Blanc). Perhaps one of the joys of the LJR has always been its good beer. You never get a bad pint in the LJR, and you often get an outstanding one. While it no longer has Gambrinus on tap, it has Budvar light, dark and a half & half. It went through of patch of dull guest beers but there are always a couple of interesting ales on to sup with your pie.
The LJR is my favourite local pub in London. The local thing is important but even though it is often packed, it has a dodgy fake door and relies a bit too much on outside drinking, I don't know anyone who hates it. It always feels like a little treat being in there, and any pub which after twelve years of patronage still feels new and magical is a great thing indeed.
Comments
Add your comment
Top of page