14
Jan 16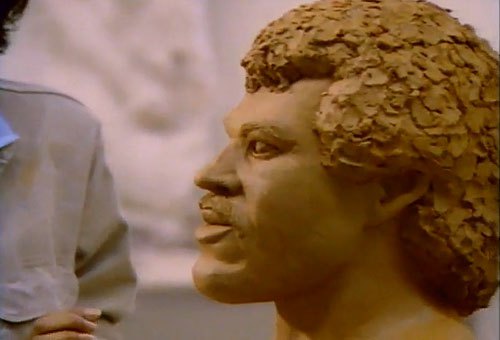 "Hi readers, I'm Lionel Richie's Enormous Clay Head. You may remember me from the 'Hello' video where a visually impaired student nearly sticks her fingers right into my eyeballs – ouch! Just because she's blind doesn't mean she has the authority to blind others. Didn't anyone tell her 'an eye for an eye' is not a sound basis for a system of restorative justice? Anyway I'm potentially the only eye witness to my human counterpart's abuse of his teacher-pupil power dynamic – a lawsuit waiting to happen if you ask me. But wait, what's that noise? It sounds strangely like the roaring of a kiln… surely they couldn't be trying to silence me for ever???"
Thanks Lionel Richie's Enormous Clay Head, I'm sure the Claymation Jackie Wilson will come to your rescue any minute. Shall we say 'hi' to our top 20?

20. Hello – Adele

Just before Christmas I watched an old episode of Midsomer Murders, which featured a clairvoyant spooking some unwitting punters (OR WAS SHE LEGIT???) while some suitably mysterious murders happened nearby. I like to think Adele saw it too and decided to write this tribute ballad about being a spirit medium. I don't think 'Hello' is as good as 'Skyfall', but its belter of a chorus has ensured the music industry can breathe out for at least another year.
19. Delirious – Susanne Sundfør

The second entry from our Norwegian ice-goddess sees her team up with Sara 'The Killing' Lund and Saga 'The Bridge' Norén to chase their suspect on a chugging goods train across Scandinavia. The trio corner the corrupt prime minister on the edge of a cliff, amidst swirling snowflakes – only for Sue to pull off her mask and reveal that's she's been the killer all along! TO BE CONTINUED.
18. E•MO•TION – Carly Rae Jepsen

This sounds a bit like that Haim song from the other year, i.e. pretty good, although I would have trouble picking it out in a lineup. Jeppers appears to have had a power cut, and while waiting for Netflix to come back on, spends the time wondering what her ex is doing. As a child of the 80s I can still remember which drawer in my parents' house has the matches and candles in, but I worry that young Jeppers is underprepared for such an event. I hope she stops daydreaming long enough to remember to check if the freezer has started to defrost itself.
17. FourFiveSeconds – Rihanna, Kanye & Macca

Stripped back duet where Rihanna and Kanye have gone on a road trip to the in-laws (?), and seem to be getting on each others' nerves. If like me you have avoided this baffling-on-paper collaboration all year, DON'T WORRY because it turns out Macca doesn't actually sing a note! I would rather listen to this than 'Mull of Kintyre'.
16. Lean On – Major Lazer & DJ Snake ft MØ

Beach-ready summer banger that should be heard while sipping a colourful drink out of a hollowed-out pineapple. The chipmunk bits may get grating for some, but for me it wouldn't be a proper Major Lazer song without some vocals being put through the mincer. After all, Major Lazer is responsible for all recorded music, so they can do what the hell they like really.
15. Run Away With Me – Carly Rae Jepsen

MORE JEPPERS bloody hell woman, save enough spots for the rest of us innit.
14. Hotline Bling – Drake

Drake is so dreadful that even though this song got stuck in my head for four whole months, I only rated it 5th on my ballot. In an ideal world the perfectly acceptable (and almost meditatively simple) backing would have been released as an instrumental by Metronomy or someone, but we live in an imperfect reality. That gentle cha-cha-cha organ preset is now forever tainted by Drake and his whinging. Truly awful. But very catchy.
13. Bitch Better Have My Money – Rihanna

The song I have heard most playing out of rolled-down car windows this year! Not exactly a banger but absolutely not a ballad. No-one does menace-pop quite like Rihanna. She is so hard-ass that Barry Kent gives her his pocket money.
12. Coffee – Miguel

It will probably not surprise you that there is a RUDE version of this saucefest, which describes an alternative universe where Miguel gets to Pret and there's only decaf beans left.
11. Flesh Without Blood – Grimes

Grimes has Learnt The Guitar, resulting in what I believe the kids call 'jang jang jang'. The perky chorus hook is so instantly memorable I assumed Grimes must have nicked it off someone else. Maybe she did! It took me a long time to figure out that 'Ghetto Superstar' was actually the tune from 'Islands In The Stream' so I can't be trusted on these matters.
Next up: your Top 10!
Comments
Add your comment
Top of page