23
Dec 15
Pub crawl time once more and it is about time we went South (or actually East) of the river, and to celebrate the Crawl being able to join the army we are heading to Kennington for a gentle wander from the river to Kennington Station. As ever its on the 29th December, and starts at 3pm (er – apologies for forgetting this key info, but its always on the 29th apart from when it wasn't).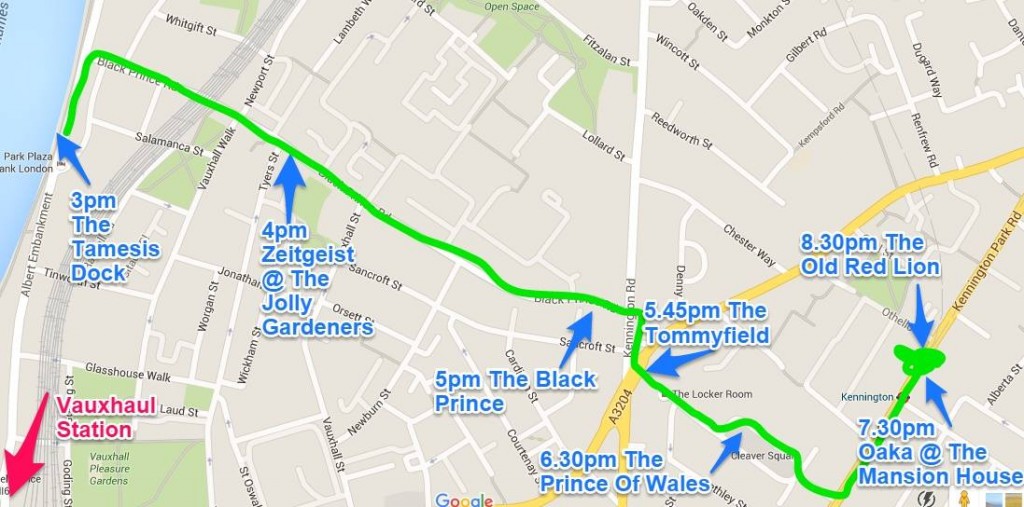 So your route for the day is as follows:
3pm The Tamesis Dock: We're on a boat, pub on a boat, everybody look at us we're on a MotherFucking Boat.
4pm Zeitgeist@The Jolly Gardeners: Its a German Pub, Bitteballen, Bratwurst, Dunkel, Christmas Market hangovers
5pm The Black Prince: As seen in Kingsman: The Secret Service.
5:45pm: The Tommyfield: Look! Nice stripped wood, gastrohell – not to be confused with Stephen King's The Tommyknockers
6:30pm: The Prince Of Wales. Unless the Queen dies in which case The King.
7:30pm: Oaka@The Mansion House: Marvel at the wide range of Oakham beers that all – er – taste the same
8:30pm The Old Red Lion: It is literally next door to the Mansion House so whichever takes your fancy…
The start is a five minute walk from Vauxhaul Station, the end is opposite Kennington Tube Station. Though some of us might be going to South London Pacific at the end of the night because Tiki Bar.
Usual pub crawl rules apply, its not about drinking, its about hanging out. If a pub is closed, we will probably go to the next one (though if we are in the middle we might go to the Dog House). Facebook / Twitter @pb14 . Come and have fun!
Comments
Add your comment
Top of page