24
Jan 14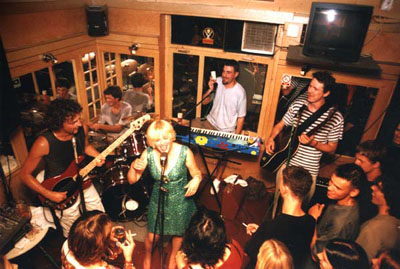 Welcome managers and fans to the Pop World Cup 2014! Over the next few months 32 teams and over 100 songs will be fighting it out to be crowned Pop World Champions 2014. Who decides the winner? You do – by listening to the tracks for each match and voting for your favourites.
In the Group Stage, we'll be putting up matches every Monday and Thursday. Each match will include 4 songs and you get to pick your two favourites in a poll. After a week, the poll will close and we'll announce the results. As in the so-called real World Cup, each team gets three matches to impress on this global stage.
As well as voting, fans are encouraged to cheer on their favoured teams – and critique the opposition – in the comment boxes.
Onwards! Group A features host nation Brazil, managed by Matt DC; Mexico, managed by Steve Mannion; Cameroon, managed by Chris; and Croatia, managed by intothefireuk. This year there won't be any 'analysis' from me, it's straight into the tracks. (Click through for tracks and poll – we also have a Spotify Playlist)

BRAZIL: Edu.K – "Do The Brega! (Remix)"
"Citizens of the world! Brazil welcomes you! Now the fireworks and samba drums and voluminous carnival floats of the Opening Ceremony are out of the way it's time to get onto serious business. The world of Brazilian pop football has been through an extended period of soul-searching following their bottom-of-the-group exit in 2010 and appointed a PWC-winning manager to bring the back to past glories. Never again will a Brazilian team pointlessly fanny about on the ball, indulge tepid Latino kitsch or attempt to kick the opposition off the park with a crunching death metal tackle.
The most exciting emerging trend in Brazilian party music is tecnobrega (literally translated as 'cheesy techno') and I present to you a hardy perennial proudly jumping on the bandwagon. Pop football is a simple game at heart, and sometimes the stupider the better. Do the brega!"
MEXICO: Los Mcallister – "Crazy June (Damn Disko Remix)"
"This one was ten years too late for the spottily-recorded 2002 Pop World Cup (controversially won by hosts Uruguay after everyone else's songs received cease and desist notices from unimpressed IFPI presidente Lars Fanniiing) where glossy hyper disco of this type reached perihelion. 'Crazy June' finds Los Mcallister reflecting on that fabled tournament and wondering what might have been but fake-fond memories aside who would deny today's muchachos Damn Disko a crack at the cup with such homagery. Our squad now dreams of a victory just as swift and powerful."
CAMEROON: Naomi Achu – "Alhadji"
"From my inexpert and monolingual research, Naomi Achu seems to occupy a space in Cameroonian pop culture roughly equivalent to Nicki Minaj's. So I was feeling congenial even before I heard her rap about using men for their money over this beat."
CROATIA: Stampedo & Deafness By Noise – "Dubidup"
"Stampedo jog onto the pitch, eye up the opposition and immediately launch an aural assault. Starts innocently enough but is then hijacked by menacing guitars, strings and synths. Add a mexican trumpet, random shouting, penny whistle, squalling feedback and…back of the net! 'One nil to the Stampedo!' Doo be doo indeed!
Of course I have no idea what Dubidup is about but I can tell you Stampedo are from Zagreb and describe themselves as a mix of world music, lounge, ska, jazz and cheap cheese synthia disco! Nice."
THE POLL: So there you have it – all that remains is for you to VOTE. You should vote for two tracks, and your votes will count equally to the final score. There is a not complex but tedious to type out scoring system which I'll spare you until we get to results. For now – vote!
A1: Which TWO Tracks Do You Pick?
CAMEROON: Naomi Achu 58%

BRAZIL: Edu.K 53%

CROATIA: Stampedo & Deafness By Noise 48%

MEXICO: Los Mcallister 34%

Total Voters: 80

Poll closes: 30 Jan 2014 @ 09:00

Loading ...




Comments

Add your comment

Top of page

Related Posts

About the Author

Tom invented Freaky Trigger on a bus journey in the mid-90s. A page about what he's up to can be found

here

Featured Posts