4
Aug 19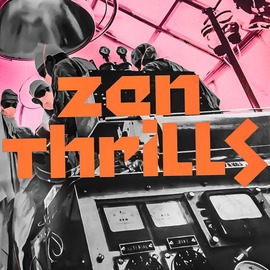 There are some musicians whose stage presence is so powerful, it creates a visual tunnel around them, making it nigh on impossible to pay attention to anyone else. Cedric Bixler-Zavala has it with his slinky salsa moves and microphone swinging. Jack White has it with his cryptic un-banter and towering stature. And Teri Gender Bender of Le Butcherettes has it in spades. The combination of her frenetic dancing and piercing stare with the sheer volume of her voice nearly swallows the room regardless of venue size. She's mesmerising and slightly terrifying. I love her.
I've only been to two gigs this year, both of them blinders and both of them Le Butcherettes. I've seen them a few times before as opening acts, so I knew to expect fiercely intense performances, and I was not disappointed. Each time I brought friends who hadn't seen them before and, as I'd hoped, each time left with new fans. The set lists drew from across their four albums, and whilst there has definitely been a progression from raw, garagey rock to a sleeker, tighter sound, the fury and passion has, if anything, been ramped up even more. Maybe this is because year on year, there's so much more to be pissed off about or because the recent shows I've attended have been in more intimate venues. Either way, they were exhilaratingly life-affirming.
Teri and Omar Rodríguez-López have been collaborating for several years now; she provides backup and lead vocals on many of his solo albums, including Zen Thrills. Although three songs revisit previously recorded material, the flavour is very TGB, and I'm guessing she wrote the lyrics, as this seems to be the case for other releases where ORL doesn't sing. Listened to out of context, you might mistake some of them for Le Butcherettes tunes, and this is a very fine thing indeed.

I've said that one of the reasons I began this project was to piece out a timeline and make a list of reworked songs from all ORL solo albums. I'm not entirely sure why, other than I may someday get on Mastermind and choose ORL as my specialist subject and, as such, need to file this info in my brain for potential questions. This task is practically impossible, at least the timeline aspect anyway, because the hundreds of songs from the vault weren't necessarily released in chronological order of when they were written. There's just so much material to consider; I can identify straight-up reworkings, but there are just as many songs containing elements and sequences that I find difficult to single out. Also, it just leads to further questions – has this song been tinkered with because he loved it so much it couldn't be contained in one piece? Or because he wasn't happy with it and wanted a do-over? Or is it all in the hands of the producers who sifted through all his hard drives for the Ipecac series? I have to let it go, because it's pointless and carrying on might make me lose grip with reality and start referring to him as "Brocktoon"
I do definitely know that three tracks on Zen Thrills come from 2013's Unicorn Skeleton Mask, which I only heard for the first time about a year ago. I'd always meant to listen to it, but as I was on a tight budget at the time, I reserved my funds for the Bosnian Rainbows self-titled album. It's a frustrating one, suffering from overly distorted vocal effects that make the lyrics impossible to understand and a very muddy mix. The versions here are very similar but often have different lyrics, although it's hard to be sure because I struggle to understand a good deal of the words on Unicorn Skeleton Mask
"Scream, What Do I Do", another version of "Remember", almost certainly has new lyrics. Then again, it's hard to be sure, because 90% of "Remember" is incomprehensible. The beat is the same and may possibly be entirely lifted from the original, as Deantoni Parks is listed as drummer for both albums. It's a solid foundation with TGB's slightly eerie vocals tying the track's melody together like The Dude's rug tied the room together.
"Drown It All, No One Will Miss It" is another reworking of "Bored to Burns", although it's more akin to the tracks "Want, Need, Scream in a Dream" and "The Editor" from Weekly Mansions. Every version of this song has a different layer added or removed. Here, lyrics are added over some classic ORL guitar, lightly dissonant to the uptempo beat, which sort of sands the edges off the sharp synth. I can't hear this tune enough; it feels like the friend you can go months without talking to but always fall into the same seemingly continuous conversation with when you finally do.

"With You If You Give a Damn" is a reworking of "Tennessee", and I'm pretty sure the lyrics are entirely different on this version. The vocals silkily glide over plinky synth, creating a dreamlike feel. The tempo dips in and out of slow, luscious lulls that swell into chillout electro and back again. The brightness shining through the dark or darkness penetrating light reminds me of the sky in Turner's painting of Calais pier.

"Burning Those Bridges" is like a smoothie blended from the poppier side of Le Butcherettes and the synthy psychedelic vibe of Tychozorente. Texturally, it's probably the lightest track on the album, with plenty of breathing spaces that ripple around the beat. It's an excellent opening number that sets the mood for the rest of the album.

TGB's vocal cadence in "Nowhere Sides" in particular reminds me of Stab My Back. No one instrument overpowers another too much, for a mixture that allows for better appreciation of the bafflingly poetic lyrics. It's slick and sharp and defies genre, my favourite kind of this.
The remaining songs have a definitively spicy Le Butcherettes flavour packet sprinkled throughout. "Passions May Bluff" spits punky attitude and snarled petulance. "Lounge for a Tongue" marries warbly ORL riffs and sequences with TGB's distinctive wordplay. The only real outlier is the album closer "That's Hell Alright", an exercise in repetition that I'm convinced is a cruel joke; it's three minutes of the same notes punctuated with a beat stuck on the same loop where nothing changes or progresses, and I suppose that is hell, alright.
Zen Thrills is a splendid example of the collaborative power that is ORL/TGB. I hope that it leads fans of the Mars Volta towards Le Butcherettes and, conversely, Le Butcherettes fans to seeking the Mars Volta/ORL. Omar's reputation of being the Volta dictator-at-large notwithstanding, it evidences his skill in working with and bringing out the best in the talent he teams up with. I've always loved how TGB's vocals blend gorgeously with his when singing backup, but when she takes the lead, my focus is always on her. Girls to the front!
Track listing:
Burning Those Bridges
Scream, What Do I Do
Nowhere Sides
With You If You Give a Damn
Where Did Youth Go
Passions May Bluff
Lounge for a Tongue
Drown It All, No One Will Miss It
That's Hell Alright
Add your comment
Top of page