16
Jan 19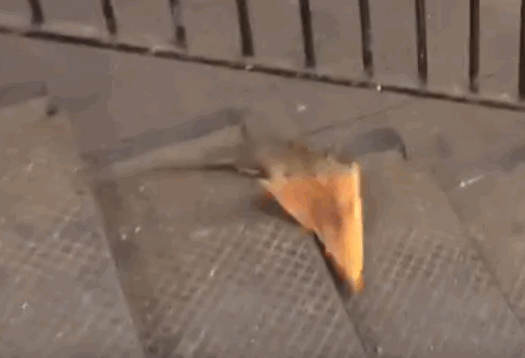 "Howdy! It's me, Pizza Rat! You may remember me as the heartwarming if somewhat unhygienic meme from 2015, back in the days before… some stuff happened. Don't ask me what though, the average lifespan for a rat is about 2 years so given my high cholesterol diet I'm likely to be dead now! But as I'm such an inspiring motivational figure I will throw out a prediction for you all: I bet those great pictures of Pluto, taken on the edge of our solar system in a feat of technical endeavour, will have inspired humanity to look outwards to the stars rather than squabbling amongst yourselves, and world peace will be well on its way! Plus I hear that David Bowie has been making an album on the hush-hush? That's sure to be good!"
Another cheerful intro message, thanks Pizza Rat. Let's see how #20-#11 turned out:

20. Dream Themes – "Grandstand"

I must abide by the will of the people by regardless of the narrowness of the margin etc. If you're not familiar with light entertainment juggernaut Dream Themes, they play instrumental television themes to a loyal audience of fans who tend to shout out things like "Do Lovejoy!" and "I'm going to the bar do you want anything?" If you *are* familiar with Dream Themes then well done on collaborating with your fellow fans to ensure this sporting great got a Top 20 placing.
19. Charlie Puth & Kehlani – "Done For Me"

Ah but what has he done for you late-leeey? There's a bit of a Hall & Oates vibe to this duet which is a damn sight better than the Maroon-5-style whingeathon I had assumed it was going to be on paper.
18. Rayvn Lenae – "Sticky"

One of my absolute faves from this year, proper filthy R'n'B with a bassline that wraps its legs right round you. The sort of song that Biggie Smalls would have sampled if it had been released 40 years earlier.
17. Helena Hauff – "Hyper-Intelligent Genetically Enriched Cyborg"

Always good to see some space battle techno in the list, even better when it's got a corkscrew acid squiggle for a hook. I saw Helena do a very banging live DJ set at BlueDot Festival last summer where she was quite flagrantly ignoring the 'no smoking' signs in the tent.
16. Sigrid – "Sucker Punch"

Sigrid has bunked off her P.E. lesson, but has a cunning plan – nicking one of those foil blankets they give you after marathons, rocking up to the finish line and pretending she's done the whole cross-country run.
15. Childish Gambino – "This Is America"

Cracking video (featuring plenty of what I believe is called 'imitable behaviour' – personally it just makes me want to jump on the roof of a car) and a striking musical switcheroo from the Staunton Lick to Mezzanine and back again. Well done Donald.
14. Mitski – "Nobody"

Piano indie that spirals off into a bizarre knees-up. I don't even understand enough about what is going on in the video to make a joke about it?
13. Janelle Monáe ft Grimes – "Pynk"

SUBTLE.
12. Janelle Monáe – "I Like That"

OK this one is slightly more subtle. Speculation on what 'that' refers to is futile, the matter having been solved many decades ago by Mr. M Loaf, however the mystery remains why Janelle is following a 'chain-s-saw'.
11. Azealia Banks – "Anna Wintour"

Handbags in all senses of the word, including Ibiza house. 2018 saw Azealia use her lack of filter for the benefit of humankind (possibly) and more incredibly, actually release a decent record. Progress!
Top 10 coming soon!
Comments
Add your comment
Top of page