4
Jan 19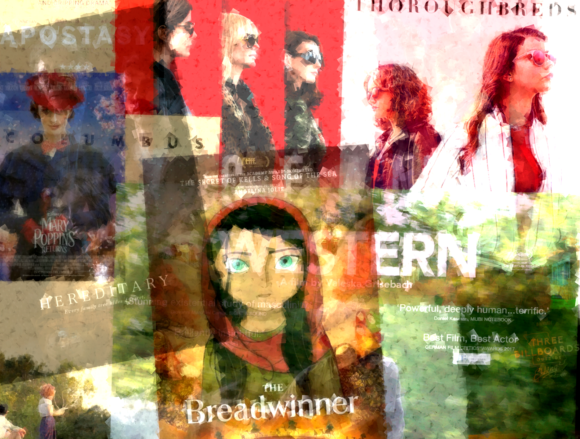 So as per usual I will be dispatching the movie poll results in batches of ten, which might start in a puppydog quick fashion, and finally limp out the final ten in the middle of February. Well we will see…
Some stats this year – we received 24 full ballots, and in all 131 films were nominated, with 66 films receiving more than one vote and therefore eligible for the list. If films tied for points, the one with the larger number of individual ballots scored higher. Which is exactly what happened at number 40, so sorry to joint 41 "The Hate U Give" and "Disobedience" you just got pipped by this pair of pretty little psychos:
40: Thoroughbreds
Its tough being a teen psychopath. Why not kill yr horse, and your best mates Dad. A terrific black comedy which doesn't quite stick its ending, but is ghoulishly fun on the way.

39: Apostasy
Micro budget British Jehovah's Witness drama that is both an eye opening look inside the faith, and a achingly sad dramatic exploration of the same.

38: Ocean's Eight
Macrobudget hang-out movie with next to no dramatic tension (particularly when the antagonist turns out to be James Corden) but the class of people to hang out with is terrific fun. Blanchett probably wins on the fashion stakes but Akwafina battles with Anne Hathaway for scene stealing honours.

37: Western
Germany vs Bulagria in the battle for the heart of the European project. Prejudice, envy, a horse and claim jumping make it feel like a Western, but it is its own deliberate thing too.

36: Solo
The first Star Wars film not to make the Top Ten, this is a thoroughly disposable stab at Han Solo origin story. Of course Han doesn't need an origin story, and some of the secret identity bits are truly clunky, but it does end up being a rather charming space opera in itself.

35: Mary Poppins Returns
The apotheosis of the remake sequel, it hits many of the same beats as the original – whilst Emily Blunt plays the character with definite different emphasis. Unlike Solo she is allowed to make the character her own, and had lots of fun doing it.

34: Columbus
Just your average architectural, metaphysical romance: a haggard John Cho waits upon his fathers death whilst flirting about architecture with Haley Lu Richardson (who is great). A perfect mood piece, and has the best bit of silent cinema in the year in it (beating A Quiet Place). Cho was also great in Searching… ,
sadly only made it to 59 in our list.

33: The Breadwinner
The animation studio behind the Secret Of Kells and Song Of The Sea take a tougher story, a coming of age drama set in Taliban Afghanistan a weave a magical tale which never pulls its punches about that hideous regime, but manages to create a heoric throughline for its heroine. IT WAS MY FAVOURITE FILM OF LAST YEAR, watch it.

32: Hereditary
To many people one of the scariest films ever made. To me, it has a genuinely powerful end to its first act, and then throws everything at the wall to see what sticks. What sticks is, er, quite a silly ending but hey it scared the shit out of a lot of people.

31: Three Billboards Outside Ebbing Missouri
I was not a fan, but it won Oscars, it had a glib take on racism, it had a towering performance from Frances McDormand, it had a so-so performance from Woody Harrelson, a baffling appearance by Abby Cornish and a role for Peter Dinklage which was basically a hate crime. But a lot of people liked it.

Join me in a few days for 21 – 30 which may or may not feature Jean Luc Godard.
Comments
Add your comment
Top of page