7
Dec 11
When I was little, what I really liked about Christmas was being able to stay up late, and sometimes, if I was lucky catch an episode of Tales Of The Unexpected or one of those weird portmanteau horror movies. I caught Dr Terror's House Of Horrors as a ten year old and loved its creaky short story nastiness. So much like MR James's Christmas tales have a strange link with Christmas, so do portmanteau horrors, and it happens to be the form today's Christmas Special takes.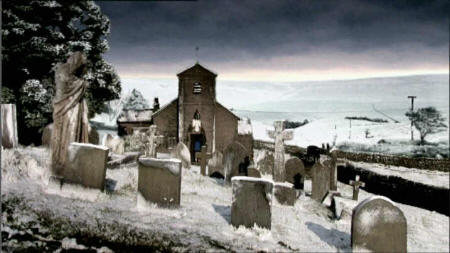 Which village has a graveyard like this?

Its Royston Vasey, and this is The League Of Gentlemen Christmas Special. A transition point for the series which started as a series of sketches linked by a common village, the Christmas Special was the first without the canned laughter, and was a lot more ambitious in scope. Its Christmas Eve and the local vicar is about to get three visitors who will tell spooky stories with a very unsettling ending. It was a highpoint of the year 2000 Christmas season and you can revisit it all here. Just watch out for the yellow snow.
http://video.uk.msn.com/watch/video/christmas-special-2000/12g281baf
Add your comment
Top of page