28
Jan 18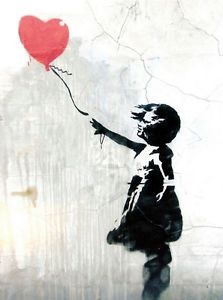 "Wotcher me old muckers. I'm Nena's 100th Red Balloon, the one edited out of the final version of the song because I 'wouldn't scan proper'. We only come in packs of 100 you know. Whatcha got against a nice round number eh Nena? Can't complain though, I've kept myself busy over the years. After a bobbing about in Paris for a bit I had to make a sharpish exit, but thankfully I landed a good stint as the stunt double balloon in some circus movie – blimey, that weren't half a scary business! Later on I did a bit of modelling for some rando graffiti artist in East London, that kept me in high grade helium for a good few years I tell you. All the kids love their balloons these days, why, just yesterday I saw a bunch of teenagers with one each, laughing away like they were having a whale of a time. I love a happy atmosphere! Anyway, enough of me gassing on, let's get on with the poll!"
Thanks, Nena's 100th Red Balloon! Here's our final batch of results:
10. Steps – "Scared Of The Dark"

I confess I like the hooks in "Story Of A Heart" better, even though "Scared Of The Dark" is much more banging (think "Voulez Vouz" rather than "Knowing Me Knowing You"). The video is less engaging too – the five of them might as well be in different time zones, and Claire is the only one who doesn't look like a bewildered X Factor winner making their first promo. The SOAH vid on the other hand has a delicious awkwardness as they flick through their photo albums, their thinly-veiled contempt for each other almost bursting through to spoil the charade before they can get that tax bill paid. Amazing.
9. Kesha – "Praying"

"Some things only God can forgive." Ouch! Top use of the Beyonce Revenge Intro Monologue from Kesh, plus a high note that only dogs can hear.
8. Dua Lipa – "New Rules"

The highlight of the otherwise sub-par 2017 Xmas TOTP. Straight from the problem pages of Just Seventeen, the only thing missing here is '4. Get down to your local GUM clinic just in case!'
7. Stormzy – "Big For Your Boots"

Now THIS should have been on the Xmas TOTP (instead of "Blinded By Your Grace"). Ideally complete with a chicken shop counter on stage for Stormzy to clamber all over with Adele serving nuggets behind it.
6. Charlotte Gainsbourg – "Deadly Valentine"

I made the mistake of watching this video when hungover, and the old couple dancing at the end made me do a BLUB. And rewatching it now I nearly blubbed again! I blame the lovely swirly strings and soft vocals from Charlotte tied together with a microgoth beat (for a slightly stronger beat check out the Soulwax remix, which got a few votes too).
5. Carly Rae Jepsen – "Cut To The Feeling"

Oooo what a feeling, when you're dancing on the Sealink! I wore this exact outfit (down to the hairgrips) for pretty much the entirety of 1999-2000.
4. Lorde – "Green Light"

Don't bore us get to the chorus! Thankfully said chorus is pretty great – this grew on me a lot over the year, once I got over the dour single piano chord intro that seems to have become a lazy shorthand for "I, A POPSTAR, AM SAD".
3. Charli XCX – "Boys"

Tag yrself I am #TheDudesFromChromeoPillowFighting. Charli herself meanwhile is unable to attend, being preoccupied with a 'personal matter'. A minimalist sample of Mario nutting a question mark box is the 'cherry' on top.
2. Selena Gomez – "Bad Liar"

Touching on a similar topic to the last song but framed from the viewpoint of self-restraint rather than self indulgence (though the daft video of course implies the opposite!), Selena should probably write Dua Lipa's rules on a post it note and stick it to her phone screen.
1. Paramore – "Hard Times"

Once again the FT voting public surprise me – a late surge of votes nabbed the win for Haley and co. I don't know when exactly Paramore started to sounding like a more palatable Ting Tings, but this is as well crafted a pop single as you'll get in 2017, full of sparky hooks and 'ain't-life-shit' camaraderie. Gina still works the diner all day and avocado toast will seem like an impossible dream once the rains stop in 2054, but we'll dance until the world ends and make the best of it while we still can.
Thanks to everyone who voted! A good year overall, I think. (Stats etc coming in the comments shortly.)
Comments
Add your comment
Top of page