Posts from 27th January 2010
27
Jan 10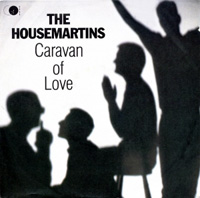 Just as Europe's as close as we're getting to hair metal, The Housemartins are our nearest brush with 80s indiepop. This isn't their strident and strummy side, of course: instead it's a showcase for their deep-rooted brand of socialist Christianity. "Caravan" is to say the least a radical take on Isley-Jasper-Isley's squelchy 1985 original, turning it into slimmed down Northern gospel and by doing so giving it a sense of place and purpose.
»
More
Cashel Blue
A blue pasturised cow's cheese from Co. Tipperary, Ireland, bought from Neals Yard Dairy
This cheese has a thin, soft, slightly mouldy rind, and is pale yellow inside, with a hefty smattering of greeny-grey veining.
It's soft and moist, and feels pliable. It melts in my mouth and is at once both wonderfully sweet and creamy, and fresh and sour.
»
More
Often in scholarly discussions of the revolutionary impact of Bis on the cultural scene in the late nineties, little notice is taken of the trivial. Nevertheless to understand exactly how the Teen-C revolution came about, sometimes the trivial becomes a solid motivational factor. And a key question stands there in plain sight, staring us down with its obviousness. But as pointed out by no less that Garibaldi, many revolutions are predicated on trivial tipping points, and perhaps the blue touch paper of the Teen-C revolution stares at us from their name.
Ie, what did they like to eat with a cup of tea?
BIS WEEK: What is Bis's favourite Biscuit?
Iced Gems 39%

Johnny Disco Biscuits 17%

Garibaldis because Bis is 3/7ths of BIScuit and 3 garibaldis are 3/7ths of a long strip of Garibaldis 17%

Rich Tea(n) C 11%

Viscounts 11%

Kid Cut Kit Kat 6%

Steve's Sci-Fig Rolls 0%

Total Voters: 18

Poll closes: 31 Jan 2010 @ 18:19

Loading ...

The self publishing revolution was of course started by Bis in the 1990s with their Teen-C fanzines, so it's only fair that we go back in time to 1997 and ask them their opinions on today's rumoured launch of the Apple Tablet which seems set to transform modern day publishing in a similar way by selling loads of ebooks. Take it away, secret vampires!*

Sci-Fi Steve: "Obviously this is a major launch for Apple and should please the tech pundits. But I'm a little worried about the tablet's robustness. What if I was holding one and wanted to jump excitedly up and down to the sounds of the Kandy Pop revolution? Might it not break?"

Manda Rin: "For a fanzine publisher this is a big step forward, however much depends on whether Apple will pursue the more open-access policy of iTunes or the heavily filtered content offering of the App Store. And how the screen reacts to glitter and shiny star stickers obviously."

John Disco: "Tablet! Och, my favourite! Apple flavoured? Amazing! Oh, it's a computer you say."

*these are not real quotes from the actual Bis. they were made up by us. trigger legal dept.