Posts from 16th January 2009
16
Jan 09
I don't need to say too much about Jumper. Most of my negative comments sit happily in this review from back in February. However I have had some criticism that my main criticism of the film is based around Hayden Christensen's spoiling one of my own favourite items of clothing by including it in his wardrobe for the film. So let me stress. Jumper is a really bad movie not just because of the T-Shirt. For one he also wears one of those long leather jackets ONLY worn by goths and dicks.
Its a pity because I have liked pretty much everything Doug Liman had directed before. Liman is a slippery director though, seemingly competent but ending up rarely being credited for his own films.Swingers, his debut, is seen as more of a John Favreau film now (Favreau wrote it and starred in it but Liman directed). The Bourne Identity is regularly considered the worst of the Paul Greengrass trilogy – which I disagree with. The other two Bourne films may have more excitingly shot sequences and murkier politics, but the Identity has the most satisfying character arc. And Mr And Mrs Smith, which was ropey but fun, is the film Brad Pitt and Angelina Jolie met on – Liman is relegated yet again by tabloid gossip.
»
More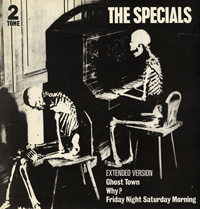 When Graham Linehan and Arthur Matthews picked "Ghost Town" for an unforgettable appearance in Father Ted, they apparently wanted the worst record imaginable to play at a disco. But there's actually a lot of dancing in the song, which knots its competing jostle of ideas together with an incisive – and wholly struttable – mid-tempo groove. The reason you wouldn't dance to "Ghost Town" is that the floor's already full – of fighting, but also of spectres. The record is full of crescendos and horn vamps that beckon you to dance and then break off, plunging the song back into shadow. And when the dance does kick off you'd rather not be part of it – those horrible shrieking backing vocals are the sound of a danse macabre, a skeleton skank conducted by the sleeve's bony pianist.
»
More