3
Jan 16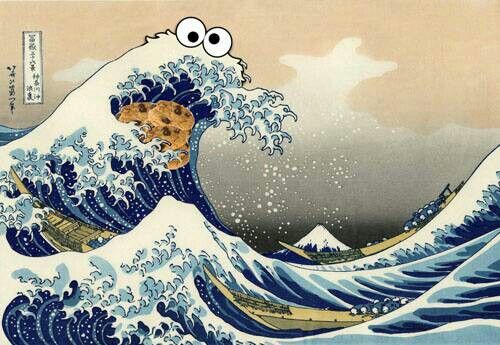 "Hi there kids, I'm an anthropomorphised visualisation of the online streaming service Tidal. This year has been a veritable whirlpool of activity for me, trying to remind people that I exist and keeping all my celebrity investors afloat. It's not all been smooth sailing: I had to separate Usher and Jack White earlier this morning after a game of rock-paper-scissors got out of hand. But I've got just enough spare time to wave in this year's Freaky Trigger Readers' Poll! Enjoy streaming the deluge of tracks below on my slightly-more-expensive-than-Spotify app!"
Cheers Tidal. In a hark back to 2012, we actually have 41 tracks in our Top 40. Here at FT you get 2.5% more bang for yr buck!

=40. Memorial – Susanne Sundfør

Imagine if Cate Blanchett decided to fuck it all and nab the One Ring off of Frodo, ruling Narnia in an endless winter time-share with Tilda Swinton. In true fantasy epic style, every time you think 'Memorial' is about to end, it goes on for another 3 minutes – and after the credits finish, the thought-to-be-vanquished baddie opens one extremely angry eye. More to come from Susanne in this poll…
=40. Your Type – Carly Rae Jepsen

Jeppers may have suffered a little from vote splitting this year, though some might call it vote HOGGING. Her first entry is chock full of vocal hooks and a backing track so thickly compressed you could make metamorphic rock out of it.
39. Need You Now – Hot Chip

Out of all the songs in this poll's Top 40, this is the one that got played the most in the loos at my old office. While this isn't the most cheerful house track ever, it is infinitely preferable to Meghan Trainor's 'Dear Future Husband', my least favourite accompaniment to pissing in 2015 (mercifully no-one voted for it). Sad owl Alexis Taylor wears a nice jumper in the video.
38. Know Me From – Stormzy

Chart grime is back!Back!BACK! Except no-one knows if it ever went away or not because nobody pays attention to the charts anymore. This is the Stormzy song that has the astounding sample of Phil Mitchell from Eastenders AND a shout out to David Moyes. The video features Stormzy's mum ripping it up proper style. Probably a bit sweary for the young 'uns.
37. Piss Off – FFS

Less likely supergroups have existed but the bonds between Franz Ferdinand and Sparks have turned out to be pretty covalent. 'Piss Off' is about telling someone to go away (as opposed to a urination competition), and sounds more like Sparks than FF to me.
36. Shutdown – Skepta

Skepta goes on holiday to the Barbican! A great farting bass noise implies he may have eaten too many baked bean canapes at London Fashion Week.
35. Pedestrian At Best – Courtney Barnett

This reminds me of the growly indie I listened to all the time in 2002 before Fischerspooner came along and made me sell my guitars and buy synthesisers. Courtney also manages to sound a lot like my Diaryland entries from that era (I didn't get a Livejournal invite code until a year later!).
=33. Silhouettes – Floating Points

(Full disclosure: I combined the votes for the single edit and the 10-min long version.) A generally pleasant piece of music that you could play to your Mum. Although my Mum would probably ask where the vocals are. This song doesn't make me weep buckets like 'La Ritournelle', but it would be a good substitute for LR if you are e.g. at work and weeping buckets is not 100% ideal. The video here is pretty cool too, apparently all done with exposure tricks rather than CGI. JUST LIKE MY MUM ahahaha no that doesn't work does it.
=33. You & The 6 – Drake

Sorry I am still listening to 'La Ritournelle' from the last blurb. *blows nose in tissue* Where are we? Oh yes, Drake. *rips entire box of Kleenex in half* I had to make sure this wasn't actually Lil' Wayne singing, because Drake sounds like he's in need of some Strepsils.
32. Slumlord – Neon Indian

This track only had a few votes but scored very highly in those few! It takes a while to get going but once you get past the OMD twiddles it gears up nicely into cosmic disco. The Tarantino-ish video gets a bit graphic :(
31. REALiTi – Grimes

If you weren't keen on Grimes' last album then I fear 'REALiTi' is unlikely to change your opinion. As a Grimes Agnostic I thought I'd give her another try earlier this year and stuck on the album while walking up to Waterloo station from work. As I came out of the underpass I was confronted by a 30ft tall image of the scary doll from the album cover, projected on to the side of an office block. It was very unnerving and as such I think my jury is still 'out' on Grimes. Votes for the album version and the demo (which accompanies the video above) were counted as one for this poll, because I can't actually tell the difference.
#30-#21 coming up later this week!
Comments
Add your comment
Top of page