5
Jan 15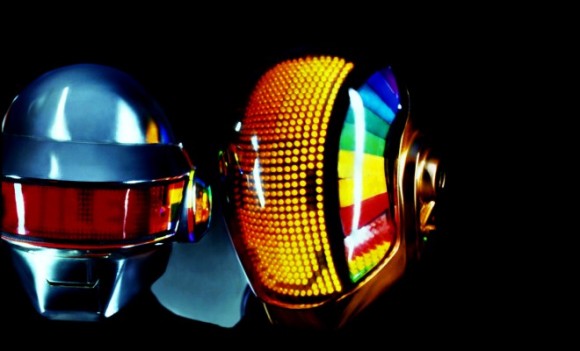 "Greetings from the future, pop lovers! We are robot pop duo Daft Punk and we're happy to be kicking off the 2014 Freaky Trigger Readers' Poll! We're definitely not bitter about there being no 2013 poll (one excellent human voted for us this year anyway – your place in cybernetic heaven is assured). One more time: we're not bitter AT ALL. If you want to see bitter, you should see all the red pen on Robin Thicke's Christmas Card list! Anyway, a whole bunch of you biological entities from around the world voted this year and the list is harder, better, faster and stronger than we possibly could have imagined!"
Thanks Daft Punk! Without further ado, here's #40-#31:

40. "I Will Never Let You Down" – Rita Ora
Rita Orrr-a, we adore 'er, doing things in her very special way! When not casting spells on inanimate objects, Rita wears brightly coloured clothes, including a wizarding hat that opens up to reveal a miniature Calvin Harris (and a matching miniature drum machine). I'm not sure where this description is going but the chorus is catchy.
39. "#Selfie" – Chainsmokers
"Who goes out on Monday?" Excellent social commentary over a sub-Benassi vworp with one solitary chord.
38. "Let It Go" – Idina Menzel
The cold never bothered her anyway! If you have small children then it's likely you know how this goes off by heart; I've not seen Disney's Frozen but thanks to "Let It Go"'s 52 weeks (!) in the 2014 UK charts I am more than familiar with its excellent 'fuck the haters' message. However I'd recommend skipping the last 30 seconds where Idina attains a piercing register that surely would shatter any ice castle she'd magically built in the first 3 minutes.
37. "That's Not Me" – Skepta ft JME
I can confirm that Skepta's blorpy bloo beats have trumped Wiley's in this year's poll! (Let's hope this doesn't cause another Barnet Beef.) This track starts with Skepta announcing that he's put all his Gucci clothes in the bin and ends with his little bro JME describing their video as having a 'nostalgic backdrop'. Aww.
36. "Hey QT" – QT
Part of me is pleased that I am not down with the kids enough to understand what the hell is going on with PC Music and its spawn, another part is pleased that understanding PC Music is absolutely not required in order to enjoy it. Disclaimer: I used to watch the Chipmunks TV show on a regular basis.
35. "Problem" – Ariana Grande ft Iggy Azalea
Somehow I managed to miss this one until compiling this poll. Ariana is the little one with the topknot, Iggy is the taller one who can't pronounce consonants. If it weren't for Iggy's presence and the weird C&C Music Factory sax line, I could see Ciara totally bossing this track.
34. "Nobody To Love" – Sigma
The beats on this D'n'B may be of the weaker variety in my book, but the sentiment is unquestionably lovely.
33. "Fancy" – Iggy Azalea ft Charli XCX
Its use on the X Factor bumpers wore me down into liking this, even though there is bugger all to it outside Charli's chorus hook. Bonus points for the Clueless-homage video and the multiple spellings of 'Azailea' received in the votes for this (and "Problem").
32. "i" – Kendrick Lamar
The scourge of case-sensitive spreadsheet ordering! This has a whacking great Isley Brothers sample, with a beefed up bassline and Kendrick muttering self-improving syllables over the top – a world away from "Swimming Pools (Drank)".
31. "Close Your Eyes (And Count To Fuck)" – Run The Jewels ft Zach de la Rocha
Wash your mouths out, young gentlemen! For those of you whose rap references haven't been updated since 1989, Run The Jewels are closer in style to Public Enemy than NWA. This is noisy and very listenable even if you hate Rage Against The Machine.
#30-#21 coming soon!
Comments
Add your comment
Top of page