10
Feb 14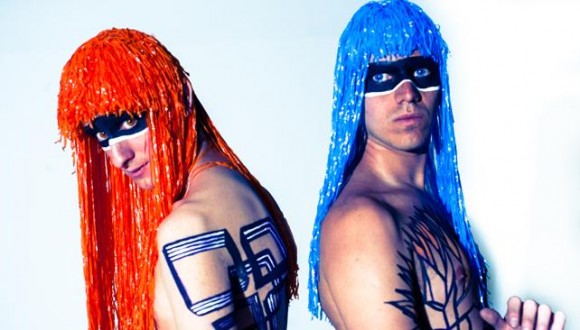 Group F is home to one of our Pop World Cup debutants, Bosnia-Herzegovina, who have been thrown into a highly unpredictable group. They're making their first PWC appearance next to Iran, who stormed to the semis of the 2006 tournament, Argentina, who will be looking to avenge a couple of frustrating competitions, and defending Pop World Champions Nigeria, fresh from a four-year residence on top of the Freaky Trigger header bar.
It's Scott M for Bosnia, Chris B for Argentina, Wichita Lineman for Iran, and Cis for Nigeria. 4 tracks, 2 votes, off you go!
ARGENTINA: Frikstailers – "Murga del Guachin"
"The production duo of Rafa Caivano and Lisandro Sona have long been part of the local cumbia leagues, but with "Murga del Guachin" (helpfully translated by Google as "Murga of Guachin"), Córdoba's Frikstailers are playing a global game with their 2013 single. It's a high energy, up-front genre-bending formation that uses elements of hip hop, dubstep, and pop, while also including a nod to its cumbia roots with a uniquely South American style of play. The unpredictable formation may lead to some confusion on the field, it's the slow-burning bassline that provides the needed stability in the backfield."
BOSNIA-HERZEGOVINA: Dino Merlin – "Undo"
"In a move inspired by Roger Milla, I'm roping in an accomplished veteran beloved by his country for their first outing here. He's twice represented them with reasonable success on the European stage, but now is the time for him to make the step up to the world's premier competition. Where Milla is remembered for his exuberant dancing at the corner flag though, Merlin sinks to his knees there, bellowing in the rain. It's on that kind of passion World Cups are won and lost. That and having the best players anyway."
IRAN: Nariman ft Saeed Panter – "Naz Nakon"
"Nariman drives his Persian ice cream van to the edge of the pitch. Saeed Panter does his Einar-esque turn as Nariman dishes out the uranium-enriched 99s."
NIGERIA: Tiwa Savage – "Eminado"
"Pop football friends! Nigeria is delighted to be here in Brazil, ready to do our best in the most beautiful of games once more. The global standard of pop football is at its peak in this tournament, and there's everything to play for – everything, and Naija pride too. We're coming out strong and nimble this time with relentless pop striker Tiwa Savage, supported by veteran defenceman Don Jazzy. After an extensive apprenticeship in the UK and US leagues, Tiwa returned to home soil in 2010 in the wake of Nigeria's PWC success under celebrated gaffer Matt DC. She's got a deft touch on the ball, keeps the ball high and candy-sweet, but underpinning all that lightness there's an indefatigability, a relentlessness, that we hope will demolish all resistance. "Eminado" means "good-luck charm": best of luck to everyone in this group, and may the best team win!"
THE POLL:
F1: Which TWO Tracks Do You Pick?
NIGERIA: Tiwa Savage 64%

IRAN: Nariman ft Saeed Panter 53%

ARGENTINA: Frikstailers 48%

BOSNIA-HERZEGOVINA: Dino Merlin 17%

Total Voters: 81

Poll closes: 17 Feb 2014 @ 12:00

Loading ...

RESULTS: England romp home at the top of Group D and make 3 points look easy – with typical restraint, the tabloids are talking about a knighthood for manager Ronald. A good showing for Uruguay, too – 2 points there. Costa Rica pip Italy to the remaining point – a decent platform for the plucky Costa Ricans, but there may be inquests in the Italian camp.

The poll for Group E is still open – it's very close as of writing.

Comments

Add your comment

Top of page

Pop World Cup 2014

About the Author

Tom invented Freaky Trigger on a bus journey in the mid-90s. A page about what he's up to can be found

here

Featured Posts