3
May 11
If you were here twelve months ago, then you'll know exactly what this is all about. If you weren't here twelve months ago, then you'll soon figure out what's going on; just watch, absorb and imitate, and you should be fine.
But if you do need a quick summary: over the next two or three weeks, we'll be collectively appraising the Top 10 UK singles charts from this week in 1961, 1971, 1981, 1991, 2001 and 2011. Today, we'll be looking at the records at Number Ten in each chart; in the next post, we'll look at the Number Nines, and so on until we reach the top. There will be voting, there will be scoring, and there will be cumulative, decade-against-decade ranking, all of which will be explained in due course.
OK. Ready? Let's do it!
1961: Where The Boys Are – Connie Francis (video) (lyrics)
1971: Bridget The Midget (The Queen Of The Blues) – Ray Stevens (video) (lyrics)
1981: Lately – Stevie Wonder (video) (lyrics)
1991: Ring Ring Ring (Ha Ha Hey) – De La Soul (video) (lyrics)
2001: Star 69 – Fatboy Slim (video) (lyrics)
2011: Buzzin (Remix) – Mann ft 50 Cent (video) (lyrics)
Spotify playlist (minus De La Soul)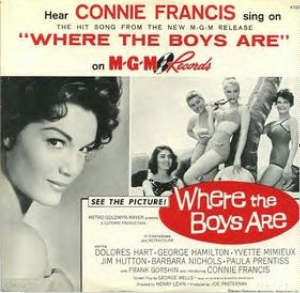 Three years on from her chart-topping debut ("Who's Sorry Now"), Connie Francis was still knocking the hits out at regular intervals. "Where The Boys Are" (officially a double A-side with "Baby Roo") was her sixteenth chart entry, and the Neil Sedaka/Howard Greenfield composition is sometimes said to be her signature tune. It was also the theme tune from a beach movie of the same name, set in Fort Lauderdale in Florida, in which La Francis made her acting debut as one of a gang of four girls with contrasting personalities and attitudes, on the hunt for boys in proto-Sex And The City style. (The trailer's quite a hoot: you can see it here.)
Considering that the film advertised itself as a holiday-themed comedy romp, I'm surprised that its theme tune strove to strike such a lovelorn, wistful tone. If its lyrics had cut a little deeper, or if its singer had sold it a little more soulfully, or if its melody and arrangment didn't mark it so clearly as a poor cousin of "Blue Velvet", then perhaps I'd be more sold – but as it is, I can't suppress a retrospective snigger at Connie's delusions. (Really, honey? You think you'll find true love "where the boys are"? In Fort Lauderdale? Hmm, well, good luck with that.)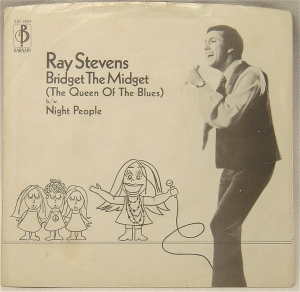 Having just spent a dispiriting fifteen minutes acquainting myself with his recent renaissance as court jester to the tea party movement, I'm loathe to cut much slack to Ray "Osama (Yo' Mama)" Stevens and this still-more-mirthless predecessor to "The Streak". The two tracks shared a couple of common features – the "announcer" format (compere/news reporter), the recurring doofus-with-a-catchphrase ("I dig it, I really dig it!"/"Don't look, Ethel!") – but where "The Streak" at least had topicality on its side, "Bridget The Midget" centred its gimmick around that well-worn old trick, the speeded-up vocal (as pioneered by The Goons and Pinky & Perky in the UK, and by Alvin & the Chipmunks in the US). I have a dim memory of a diminutive "Bridget" character gracing the Top of the Pops studio at the time – shoulder length black hair, china-doll face, cherry red mini-dress – but Google's got nowt, so maybe I just dreamt her up.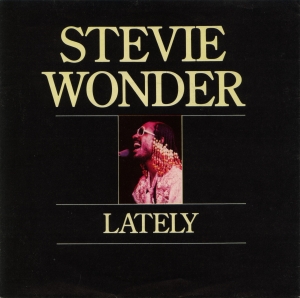 Widely regarded as Stevie Wonder's last good – if perhaps not great – album, Hotter Than July yielded four British hit singles, of which "Lately" – an excursion into more traditional romantic balladry, which cast Wonder as a newly suspicious cuckold on the brink of heartbreak – was the third. Although its songcraft is hard to quibble at, and Wonder does an able interpretive job, I do question certain eccentricities of the bassline that his musical director Nathan Watts supplies (albeit mixed so low behind Wonder's solo keyboard that it's taken me thirty years to fully register its presence). Sure, the jazzily note-bending twangs work fine – but at other times, the notes simply plod falteringly behind the beat, occasionally fracturing into semi-fluffed mini-flurries. But hey, I'm quibbling for quibbling's sake, and "Lately" deserves a good ranking.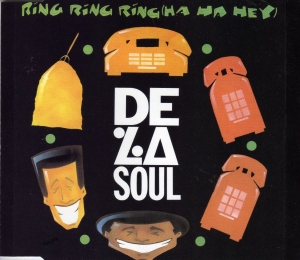 In the corners of the Internet which I tend to inhabit, the continued affection for De La Soul's awkward, cranky, spiky, self-consciously expectation-busting follow-up to their classic 1989 debut album Three Feet High And Rising has been a source of some bafflement – although in fairness, I've not given De La Soul Is Dead an airing since the year it came out. So, yes, I could well be missing the point – but dammit, I was one of those people who wanted another cheerfully absurdist Daisy Age romp, and dammit, I felt let down! (With this in mind, PM Dawn timed their emergence just right, hoovering us all up by the sackload.)
As the taster single from De La Soul Is Dead, the Curiosity Killed The Cat-quoting sunniness of "Ring Ring Ring" does set something of a false trail – but then again, its narrative (depicting the newly successful trio being besieged by endless demo tapes from pushy hopefuls) is broadly in keeping with the more embittered elements of its parent album. So perhaps we had been warned.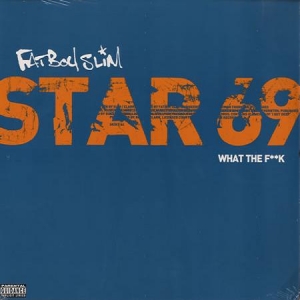 Now then. Is it just me, or is Fatboy Slim's back catalogue wearing better than we might have expected? Last month, I found myself enjoying "Demons" all over again (even in the teeth of a guest vocal from Macy Gray), and recent chance exposures to "Right Here Right Now" and "Praise You" mesaurably improved my lunchtime sandwich breaks. And so too with "Star 69", which shifts its creator away from the strictures of Big Beat, depositing him nearer the Underworld/Chemical Brothers end of the spectrum. Its flipside ("Weapon Of Choice") might have ended up stealing the limelight, thanks to its award-winning Christopher Walken video, but "Star 69" generated the initial interest and sales, and to my mind it's the track which still sounds freshest.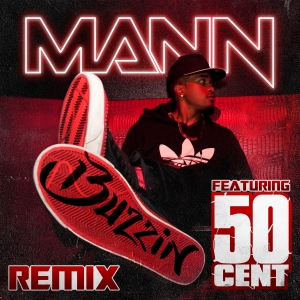 In marked contrast to De La Soul's prematurely jaded take on the pressures of success, the 19-year old Mann seems prematurely in thrall to the bounties which it bestows (I say "prematurely", as "Buzzin'" is his debut hit, which has performed much better in the UK than in his homeland). As I understand it, the remix's prime function is to pre-load the track with a typically indifferent (but presumably sales-boosting) guest appearance from 50 Cent – but when you consider that a) Fiddy hasn't had a major hit under his own steam, in either the UK or the US, since "Ayo Technology" in 2007 and b) that the tiredness of his preamble is instantly annihilated by the freshness of Mann's delivery, you're left wondering just who needs whom. I like this a lot, in a transitory, sounds-good-on-the-radio kind of way – but then again, I might be unduly swayed by the copious sampling of the 1986 Nu Shooz hit "I Can't Wait", which I hadn't heard in years.
Blurbs dispensed with, let us proceed to THE VOTING! As ever, you are invited to listen to all six tracks (via the YouTube and Spotify links supplied upthread), before ranking them in descending order of preference and leaving your votes in the comments box. Please also feel free to append your own opinions and observations – although equally, please don't feel obliged to do so. And when you're voting, please remember these golden rules:
1) No omissions!
2) No tied places!
3) So far as you are able, please avoid being unduly swayed by nostalgic generational bias!
Let the voting commence! And let the best decade win!
Comments
«
1
2
All
«
1
2
All
Add your comment
Top of page