1
Feb 20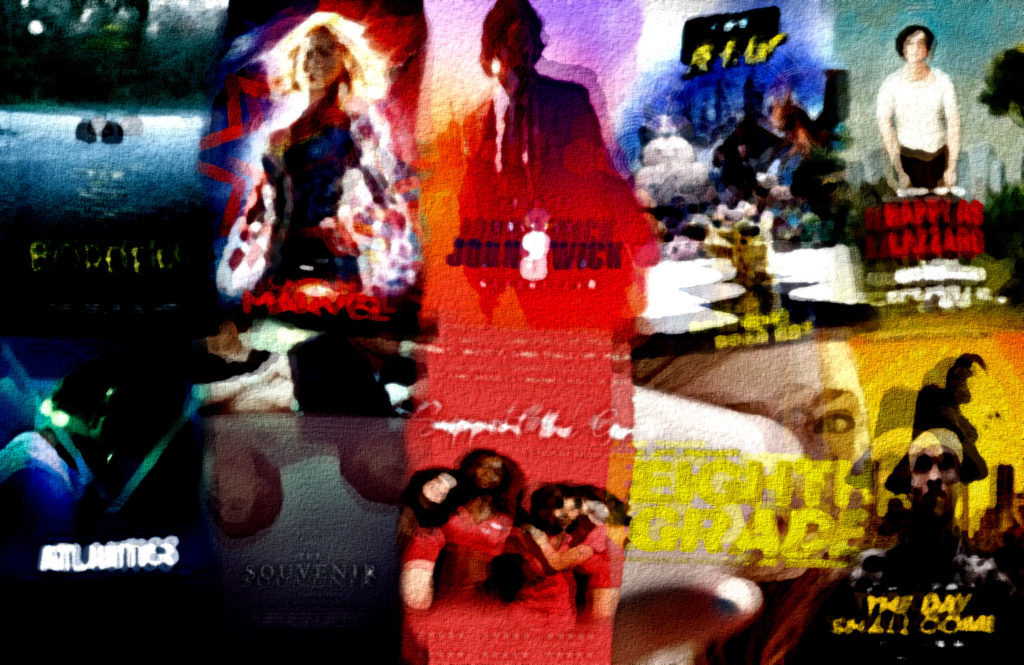 Here we go into the top twenty. At this point, those of you who have a big picture view of this kind of thing can probably do the maths and work out that there are more than ten obvious films left – so some things didn't make the cut.
From this batch we start to get films which had over four nominations, often the big blockbusters and crowd pleasers start to appear. But also still a smattering of smart arthouse choices – you have sports bars, resurrection and electrical monsters solving crimes in here…
20: The Day Shall Come
Chris Morris's belated follow up to Four Lions feels exactly that – too late. Its theme from satirical take on the FBI inventing targets to justify funding is repeated in a more serious turn in The Report, but here Morris can't get the tone right. Anna Kendrick tries her hardest to balance the gung ho chase for promotion and results, but it rubs difficulty against the subject of their investigation – Marchánt Davis's Moses. He is our innocent, but also the film wants to have fun with his place as cult leader whilst also offering up mental health issues and a willingness to trade with nukes. An odd misstep which culminates in having a title which is absolutely impossible to remember.


19: Atlantics
Mati Diop's supernatural romance manages to balance its gritty real-life setting (the risks taken by sea traveling economic migrants) with an altogether more dreamy story. Like all good ghost stories, it doesn't start like that at all, and as our heroine slowly realises she has been left behind, and then the reality of her arranged marriage the supernatural slowly seeps in. Perhaps the final connective tissue is a little too convenient, but Diop creates empathy along with an unsettling with a genuinely creepy tone where the social commentary is naturally embedded in its story.


18: Happy As Lazzaro
I saw this at the London Film Festival in 2018 – and it has stuck with me since as bravura film-making. Alice Rohrwacher continues her interest in religious themes, but here with a bold run of magical realism which also contains at its heart a fascinating parallel with reality. Indentured servants on an Italian island are discovered, and we discover what we thought might be a 19th Century tale is something else. A few shocking reversals down the line, we end up in modern Italy, our miraculous naif Lazzaro questioning modern life. Rich with allegory, beauty and despite a shaky end, a great piece of art.


17: The Souvenir
Joanna Hogg's film is acutely observed and in many ways quite difficult to watch, a upper middle class British woman slowly working through a controlling and belittling relationship to hopefully find her voice at the end of it. The partner is awful, you soon discover a long term drug user and yet the film lets you in to her world and because it is so suffocating, the eventual release becomes more powerful. I particularly liked the way it drew the world of the early eighties, a West London flat occasionally invaded by news items with sectarian violence, the randomness of which is a parallel to the relationship.


16: Border
Border is a film of two halves – one which is strongly allegorical – details the life of the physically unusual TIna, a Swedish border guard who seems to have a supernatural ability to sniff out the truth in people. She meets someone who resembles her and discovers her heritage. This part is equally creepy and empowering, Tina discovering what she really is. And then the film takes a turn, delves ito its own mythology and for me lost some of its power – though it was an undeniably compelling watch. At the heart of it is a great performance by Eva Melander – yearning to fit in, but also discover what she is.


15: Eighth Grade
It took forever for Eighth Grade to come out in the UK, but was worth the wait, even if the strongest reaction a lot of people had to it was anxiety. A intensely observed story of Kayla, hugely introverted but also wannabe Youtube vlogger, offering advice about confidence that she doesn't have. It captures perfectly a type of pre-teen angst where all you can do is feel empathy for her and tell her that it will probably be alright (there is a sequence with her father where she talks about destroying her dreams which is devastating). Performances are great, and it also has one of the years best discordant soundtracks. It is a tough but rewarding watch.


14: Detective Pikachu
So yes there are a lot of Pokemon fans on FreakyTrigger, which might be why this is here, but of all the high concept swings on big budget films last year, this is the one that surprising worked the best. I was hugely dubious, particularly when Ryan Reynolds was bought in as the voice of Pikachu which suggested this would end up as Deadpool for kids. But Reynolds works really well, the teen protagonists are solid and it is interesting that when you just get to wallow in a lightly dressed London as Jump City, swarming with background pokemon, it looks so right. Setting a noir in that world, rather than following a standard Pokemon trainer storyline, brought back some of the whimsy inherent in the property, and was fun.


13: John Wick: Chapter 3 – Parabellum
I don't have to be consistent in what I like about action movies – but the John Wick films certainly push me to the edge of some of my comfort zones. On the one hand I like the action to be ridiculous and over the top – well Wick will do that with horses and dogs and ridiculous 360 glass room fights. I also like clear choreography – which again you can generally rely on Reeves to deliver. And I don't really care that much about plot, which is fine because Wick 3 has now got so little actual plot, but so much complex mythos that I find it deadening. Reeves's stoic superman offers me all I really want in a dumb action film, and like a kid in a candy store, I think I want more.


12. Captain Marvel
The twenty first film in the MCU, so of course diminishing returns with certain aspects of the film. On the other hand, the first to have a sole female lead, and the decision was made to fold this story into the past – if only to give us plenty of Sam Jackson young (fun) Nick Fury action. So with all the familiar, what comes out well. Brie Larson sells the complex identity issues, and some canny casting and plotting obscures who the baddies are for a bit. End it with pyrotechnics, some timeline unjustified Nirvana and it all whet the appetite nicely for the twenty second film in the MCU.


11: Support The Girls
This was my favourite film of 2019 (2018 other territories) and sadly my 20 votes didn't quite push it in to the top ten. I guess it was underseen (its now on Netflix), but Andrew Bujalski's little workplace comedy is an absolute gem. I suppose its setting, a off-brand Hooters-style sports bar in a strip mall also may put people off. But it is that rare thing, a film about work, how we survive shitty jobs, how we can build a community in them and how we support each other. At the heart of it is a terrific central performance from Regina Hall who holds the women together, it feels real, it is funny and there is something for everyone to recognise.


Top Ten imminent with SHOCKS – SURPRISES and some NOT SHOCKS too….
Comments
Add your comment
Top of page