Tom Ewing
6
Sep 18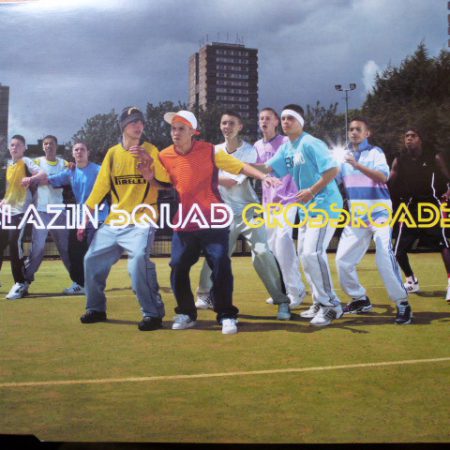 If Blazin' Squad had never existed, would it have been necessary to invent them? You suspect record labels would have given it a so-solid try: a hydra-headed rapping crew, but full of youthful good looks and free of nasty predelictions? Too good to resist, at least in this weird, early-00s phase where it's equally clear that the public want to buy rap records (maybe even British ones!) and the labels don't have much idea what will or won't cross over.
In fact, before I did my research, I assumed Blazin' Squad were 'manufactured'. Now I'd prefer to call it 'sculpted' – from the marble of an eager bunch of North London schoolfriends somebody carved this hit cover. Why "Crossroads", though? A proven earworm; a familiar chorus and a structure with plenty of space for voices to gather and mingle.
»
More
19
Aug 18
Hello everyone!
This is just to say that the Pop World Cup and Popular will be back in September*. Thanks for waiting and huge apologies for disappearing – family health and work issues have taken their toll (again).
*very possibly before! But I'm not going to promise anything earlier.
13
Jul 18
What if a World Cup lasted ALL YEAR? That's the experiment we appear to be running with this year's PWC, and a grand experiment it is too. Here we are with the fourth match, group C, which even features a team that is STILL IN the football tournament. France are one of the great exponents of the modern pop game, but Denmark have form too, and Peru and Australia are tantalising prospects. Listen to all four tracks below the cut, and vote for your favourite two.
Pop World Cup 2018 Group C Match 1: Pick TWO tracks
AUSTRALIA: Ngaiire 74%

DENMARK: Soleima 47%

PERU: Animal Chuki 37%

FRANCE: Keep Dancing Inc. 32%

Total Voters: 38

Poll closes: 19 Jul 2018 @ 12:04

Loading ...

FRANCE (Manager: Sam Walton): Keep Dancing Inc. – "Life Goes On"

"Paris' Keep Dancing Inc lead their country out for their first match with the kind of classically French, vintage but super-technical short-passing build-up play that will mesmerise fans, opposition and neutrals. Drawing from the proud traditions of French pop's recent past, Life Goes On blends just the right levels of sleepiness, wobble and melancholy, with two deep-lying forwards in the form of shimmering guitar chords and rich arpeggiated synths supporting a central striker vocal full of youth, confidence and (of course) insouciance. It may appear to be an unassuming start, but like the great France performances of previous international tournaments, Life Goes On just keeps building, self-assured in its own class and irresistibility. Peruvian, Aussie and Danish defences should be very wary indeed, Clive."

PERU: (Manager: Garry McK): Animal Chuki – "La Venenosa")

"Peru's squad contains mastery of the full range of international tactics, but we've decided to open our tournament in a very modern Peruvian style. Animal Chuki were forged in Lima's digital cumbia/tropical bass scene with strength at the back, relentlessness in middle and a skittish front line. We're hope to harry our opposition all the way."

AUSTRALIA: (Manager: James Errington): Ngaiire – "Diggin'"

"Far away from the oversaturated scenes of American and Eurasian pop football, Australia have spent the last four years quietly honing a team of gifted, polished players. Wisely, they've adopted the tactics of the All-Blacks and started looking to the wider area for talent. Ngaiire was born in Papua New Guinea, but moved to Australia as a child. Her music has been labelled "future soul" – but the futuristic elements are kept low key, tightly wound percussion and nervous synth stabs, while the soul is bared, often painfully so. Diggin' is "a song about being found before you find yourself in a permanent state of no return." and in a just world it would have been her worldwide breakthrough. Maybe it can be now."

DENMARK: (Manager: Jack B): Soleima ft Hoodboi – "Breathe"

"'Breathe' is a slick, slyly addictive pop song, and Soleima's understated, slightly wry delivery is perfect for it. 'I wanna daydream with you, just so we can breathe' goes the chorus, which as far as I can tell means what the Danish apparently call ikke noget, but is just lazy enough (in a good way) to fit the atmosphere of the song very nicely. It's cold enough to sound cool, but warm enough to sound summery, and (more importantly) to sound good on a taxi radio at night, the best possible place to listen to this type of song. Even if this isn't your cup of £6 Carlsberg now, I suspect that this is exactly the kind of sound that in a few years will make you feel oddly nostalgic for the mid to late 2010s, even if you're not quite sure why. This is my Denmark team's Claude Makelele figure, doing more than you think."

RESULTS: Over in Group F, South Korea make a confident start to the tournament – not their most dominant performance but it's still 3 points in the bag. Behind them in the Group of Death, Sweden slip up and lose second place to a stylish Mexico side. Germany's tactics have been found out and they may be heading for the same ignominous exit their footballing counterparts suffered unless they can rally in the second game.

4
Jul 18

An intriguing group for this third Pop World Cup match, with two of the sleeping giants of pop football – Sweden and South Korea – lined up against the always capable Germany and dark horses Mexico. Group of death? In a sense, they are all groups of death when YOU have the casting vote. Pick your favourite two tracks and may the best manager win!

Pop World Cup 2018 Group F Match 1: Pick TWO tracks

SOUTH KOREA: Taeyeon 64%

MEXICO: Clorofila 55%

25
Jun 18

No, you've not missed any matches. We're putting this year's games up as we get the entries in, and so it's a big thankyou to the prompt Group E gaffers of Serbia, Brazil, Switzerland and Morocco. It's a group of veteran pop managers in the dugout this match, but only two can progress beyond the group stage, and you decide who those two are. Hear the tracks below the cut, and vote in the poll: