Posts from 24th April 2009
24
Apr 09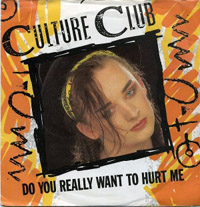 Another of pop's remarkable acts of self-creation: in the video for "Do You Really Want To Hurt Me", Boy George presents himself less as star, more as a kind of pop spirit, a dancing force of nature swaying through time and place, singular and uncageable. The metaphor the visuals ask you to reach for is straight society's repression of the queer – but "Hurt Me" is far from a defiant song. "Give me time to realise my crime": it's not really freedom George is pleading for, more space for him and his other to understand their situation.
»
More
Oh dere lord, but I want to move to Akron, Ohio RIGHT NOW. I can feel my arteries hardening just reading that review:
I could eat that crispy coating and chicken skin all day for the rest of my life. Adding sickeningly sweet syrup contrasts with the savory salty taste of the chicken, which is what was awesome. Flavor explosion!
is my favourite bit i think.
also, looking at the second pic I couldn't work out why there was some ice cream on the plate as well, until i read further down and realised it was BUTTER…
Also it's good to see that Dan Quayle is now gainfully employed…