Posts from 22nd July 2008
22
Jul 08
Since there isn't a great deal more to say about the last entry, time to scratch an itch I've had for a while about who exactly is reading this. I've kept the questions vague so as to avoid spoilers for records we've not covered yet.
Basically, I'd like you to answer these questions in the comments:
1. When were you born?
2. What was the year you were first regularly interested in what was at #1?
3. Do you still listen to music in the Top 40 on a regular basis (and if the answer's "no", when did you stop)? more »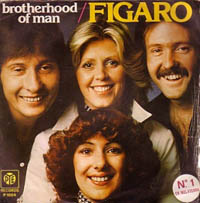 When pop's weather changes, sometimes it's the mediocre songs that tell you – left beached, suddenly seeming not just below-par but a bit ridiculous. Some records are the sound of a game being up. The hoofy hornsome jauntiness of "Figaro" wouldn't have sounded good whenever it was released, but not so long before it would at least have fitted in better, just another bad mid-70s pop side, and why expect more? But in the context of 1978 it sounds risible in its complete paucity of ambition (those bastard horns especially). I like this a lot less than the much-despised "Angelo": a pastiche that runs out of steam beats this horrid evocation of the holiday hustle. "Figaro" – well, "Figaro"'s brass section – is like being woken at dawn, with a hangover, from an itchy bed by a Butlins Redcoat and made to party till your feet bleed. A single too far for the Brotherhood and their whole aesthetic.
I was 16 when the Tim Burton Batman film came out. At the time it was the most-hyped movie I could remember for several years. It was the first major comic-book film to come out for a while, and the first since the new wave of comics – and specifically, superhero – respectability had hit in the mid-80s. That respectability had been kickstarted by a Batman yarn, Frank Miller's The Dark Knight Returns, and word was that this new, big-budget Batflick would cement the new, slick, media-literate, violent and intelligent take on superheroics that Miller had helped pioneer. The NME, which had a fair few comics nerds hidden on-staff, used the (sizeable) figleaf of Prince's soundtrack to run a bundle of coverage. The serious papers nodded in approval at Jack Nicholson's vicious, charismatic, Joker. In retrospect, it was probably the high watermark of "WHAM! POW! Comics Aren't Just For Kids Anymore!".
»
More