24
Feb 14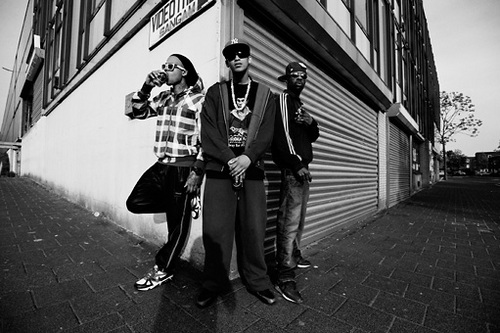 Group B finds the Netherlands (Job) in pole position, but with a point to prove after commentators speculated their first-game victory was down to crowd intimidation. Meanwhile, Australia (Matt) look to build on a decent start, and it's a vital game for Chile (lartsaegis) and Spain (Carsmile).
Four songs, two votes – below the cut.
NETHERLANDS: Hydroboyz – "Hindabuilding"
Current Points: 3
"After having the Oranje army sent home for hooliganism in the first round, the Dutch squad is keen to show it can advance based purely on pop football skills. Not looking to play a quiet game, it is, in fact, upping the ante faced with joylessly empty stands. With "Hindabuilding" we are playing a certified street anthem, a proper "banger" as they say round here. Amsterdam's HydroBoyz build their attack during the verses, scoring each time the chorus echoes around the stadium."
AUSTRALIA: The Preatures – "Is This How You Feel?"
Current Points: 2
"This track was, it seems, used in an Elle commercial, but i forgive it for that. I also forgive the bit in the middle of the song where the man starts singing. I forgive a lot about this song, cos it's damn catchy."
CHILE: Matias Aguayo ft. Jorge González & Liset Alea – "Una Fiesta Diferente"
Current Points: 1
"It's almost too easy to think of Matias Aguayo next in relation to fellow countryman Ricardo Villalobos: both are of Chilean-German nationality, their parents having emigrated with them from Chile to Germany as a result of Pinochet. Both are internationally renowned house producers and DJs who both helped pioneer the minimal Berlin sound before it got trite (mini mal, maybe). Both left the genre behind to further cultivate their sound. If you're expecting the same playstyle from Aguayo, Una Fiesta Diferente is a different set piece altogether, seemingly more engineered for his Situationist-esque bumbumbox street parties than the insular headspace of a club. But then again, Matias — a self-professed Visitor — doesn't forget where he came from, nor of where he goes the world over. "House was always the place for the aliens," he says. Jorge González of PWC 2010's Los Prisioneros makes a return alongside Liset Alea from Nouvelle Vague in a fun, yet technical formation that's probably a little foreign where ever played."
SPAIN: John Talabot – "So Will Be Now (Club Revision)"
Current Points: 0
"Round two finds the Spanish camp in turmoil, stick with the same game plan and risk humiliation, or change everything we believe in, in an attempt to curry favour with the crowd, or just play something really good and see how it goes."
THE POLL:
B2: Which TWO Tracks Do You Pick?
SPAIN: John Talabot 58%

AUSTRALIA: The Preatures 49%

CHILE: Mathias Aguayo etc. 37%

NETHERLANDS: Hydroboyz 27%

Total Voters: 83

Poll closes: 3 Mar 2014 @ 13:00

Loading ...

RESULTS: Group H finds South Korea make a confident start to a group they have been hotly tipped to win, taking home 3 points. Belgium pressed them close, though, and will look to build on their 2 points. Russia may feel frustrated by a single point, though, and Algeria will certainly be looking for a better result after failing to score in the first game.

Still available! The second Group A match is a cracker and has 3 short days left to run – don't miss it.

Comments

Add your comment

Top of page

Related Posts

About the Author

Tom invented Freaky Trigger on a bus journey in the mid-90s. A page about what he's up to can be found

here

Featured Posts