Posts from 24th September 2010
24
Sep 10
Is it safe? Is it safe?
Tim Hopkins, Steve Hewitt and Clare Spencer join me – Pete Baran – flying by the seat of our pants and talking about safety, danger, the extended mix of the Safety Dance, "if I scream if I wanna go faster what do I do if I wanna slow down", driving lessons, ELEPHANTS = DANGER and far too much time spent discussing iron cords. With music from Half Man Half Biscuit, Alpha Blondy, Blahzay Blahzay and a rubbish Men Without Hats Song.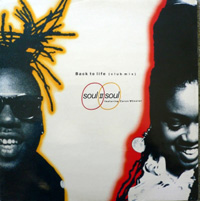 What's remarkable about "Back To Life" is its self-sufficiency: surrounded by records so very eager to please, this is a track which stands out for its restraint. It's become a 'classic' almost to the degree "Like A Prayer" has, but that record makes more sense the more public it is. Caron Wheeler, on the other hand, sounds more private and her song is more self-contained. It's an ultimatum of sorts, but not a desperate one: this is real life, not fantasy, and integrity is more important than drama, so take your time.
That's what the song sounds like, too: a voice, then a breakbeat, but no hurry. A switch to gospel vocalising just as that rich, rolling house piano line comes in – and then the strings…. there's so much going on, but so much space too, and for all that Wheeler's terrific performance centres the song, it's worth thinking about how Soul II Soul construct that space.
»
More