Posts from 4th August 2009
4
Aug 09
Testing conditions: To properly work up an appetite we cycled to Brighton and had a stroll along the pier before catching the train back to London. Both of these cheeses were eaten on sourdough bread and accompanied with red wine.
Mystery raw goats cheese with shallots
Bought from: Une Normande à Londres
Cheesy info Shallot-covered fresh goat cheese.
I can't find a picture of this, because I mis-noted its name, and that's a pity – its looks were the best thing about it. Imagine a round of white goats cheese rolled in pretty pink pieces of shallot. It looked delicious, but it wasn't very interesting at all. The shallots were a bit too sweet, and not shallotish or savoury enough to provide a contrast to the cheese. The cheese itself was soft and fluffy and creamy, but lacked any depth of flavour or complexity. It was, to be fair, a raw (aka green, like the moon!) cheese, and hadn't had time to develop any very subtle flavours, but I was expecting a brightness and freshness that was also lacking. This also comes in pepper and in oregano-encrusted flavours, but I'm not very bothered about trying them.
Cycling/Cheesing Companion manages to detect a hint of pear, maybe, but is not besotted with this cheese either.
Conclusion: Meh. :(
Münster
Bought from: Une Normande à Londres
Cheesy info Brine-washed cheese made from raw cow's milk
This was much better! Münster-gerome is a pungent washed rind cheese from Alsace. It smells fantastic – and fantastically strong – before I've even unwrapped it. It has a pale orange rind, is gooey underneath the rind, and a little firmer in the middle. It's very pungent and salty on the outside, but creamier and sweeter further in. It tastes intensely savoury and juicy, with hints of mushroom and smoky bacon and plum and a smidge of yeast.
Corruptible Vegan tries a tiny bit, but decides that it taste too much like it's rotting.
Conclusion: The münster wasn't quite as stinky as a really ripe Epoisse, but this cheese is no fragrant and delicate petal. It stank out the fridge despite being triple-wrapped. I really liked it! There was a nice balance between the salty ripe outer layer, and the sweet and creamy centre.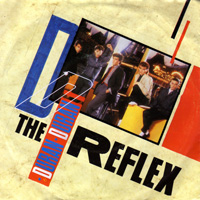 At school we had a music teacher, and like most music teachers he decided that the way to reach the kids was to indulge their love of pop. So one day he asked us to name a current song we loved, to talk about in a future lesson. Fully three-quarters of the class gave the same answer: "The Reflex", please.
»
More