Posts from 21st April 2008
21
Apr 08
I really enjoyed The Last Mistress, Catherine Breillat's filmed version of d'Aurevilly's novel. Look who am I kidding. d'Aurevilly means nothing to me, and I've never been a huge fan of Breillat's sex comedies (such as the not that aptly named Sex Is Comedy). I'm here for Asia Argento, Dario's daughter who is far and away one of the most unpredictably watchable screen presences of the moment. So whilst The Last Mistress may seem to be a pretty standard period costume drama, Argento being in it was more than enough to drag me along. And not only was I right to pick that, but the reason for it being any good at all is all down to Argento herself.
The key scene in The Last Mistress takes place just after a duel takes place.
»
More
After a short break in transmission Europop 2008 returns with this match from knife-edge Group B. Listen to the tracks, vote in the poll, and click below the cut for managerial comment, analysis, previews and match reports.
How to vote: Just tick the one you prefer! This poll closes on April 28th at lunchtime or thereabouts.
Croatia v Germany: Which track do you prefer?
Germany: Lopazz 50%

Croatia: Vesna Pisarovic 50%

Total Voters: 24

Poll closes: 28 Apr 2008 @ 14:00

Loading ...

»
More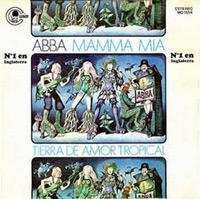 To swipe a phrase from my other favourite band, we are now into ABBA's "imperial phase", their shift from one-hit wonders to the world's biggest pop group sudden and complete. The world had, in fact, been patient with ABBA – "Mamma Mia" is the fourth single from their self-titled album, the others – "So Long", "I Do I Do I Do I Do I Do", "S.O.S." – having  been each more popular than the last. That triad looks like an evolution now, but they were all on the same record, so the development is in the band's (and Stig Andersson's) understanding of what they were commercially capable of: a play-safe "Waterloo" throwback, a lilting bit of light pop and then the fully unleashed melodrama of "S.O.S.", indelible melodic hooks melded perfectly to the song's emotional beats.
"Mamma Mia" is more iconic than "S.O.S." but it's not as good.
»
More