Posts from 20th February 2008
20
Feb 08
In a field of their own: Magnus, Katie and Ewings Tom and Al.
A song of two halves. The RAH Band's terrific 'Clouds Across The Moon'. Marvel's stock aliens. Ellen Allien's 'Wish'. Tolkien's footling theories on the essence of Fairy Story. Fleet Foxes sing. "Aslan" magazine and improv RPGs.
With a twist – GASP. The midweek number 1 is Jeff Wayne's War of the Worlds. OR IS IT?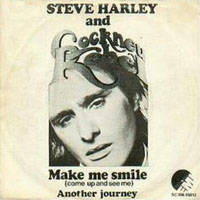 Luckily, no one ever said pop stars had to be likeable: Steve Harley spends his four minutes of real stardom on an extended, bitter, glorious great sneer: whether he's lashing out at ex bandmates, an ex lover, a current lover, the world, himself doesn't really matter. The song's built on pauses – between verses, between words – which coat its very real prettiness with a grease of spite, making the dancers stop dancing, the karaoke singers catch a breath, making sure Harley stays in perfect obsessive control of the record. But because "Make Me Smile" is such a great tune it has a jaunty use-value anyway – which extends Harley's sneer onto the dum-dums who think this is romantic. (My sympathy, as usual, is with the dum-dums, even though for once their misreading doesn't improve the song).
"Make Me Smile" could overheat – stuffed as it is with different hooks and topped with a smothering organ line – but it still has a slicing force and clarity, thanks to Harley's outstanding performance. Two highlights, almost at random: his epically curdled "Mother – EEUUURTH", and the contrasting wistful vulnerability on the chorus' "I'll do what you want" – somewhere inside, maybe he still wishes that was true.
"Things are better when they start…"