6
Dec 17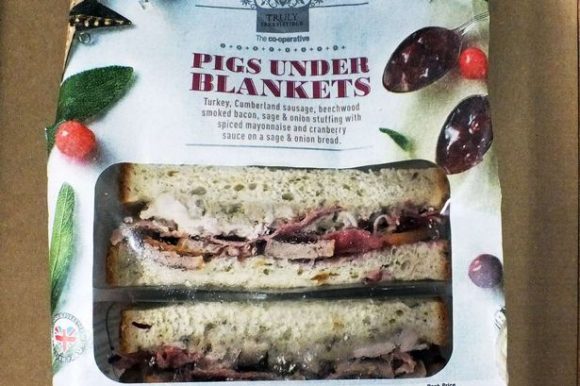 I like the co op. I like the idea of the Co-operative movement, I like how much better as a bank the Co-op has been than my previous high street experience, I like how when everything went pear-shaped for it financially it was caused by a vicar with crisps on his nips aka the Crystal Methodist snorting ket & coke off of a hooker's arse (subs/lawyers please check). Actually this last thing was probably bad and also very extremely unrelated. But I do like the co-op-that-is-a-chainstore's xmas fare.
The strange problem of the relative location of the pigs and their blankets has possibly arisen because the sausage — which is sliced — is not actually wrapped in the bacon, and the feast's designers didn't want to be sued by pedants or fanatics. It's momentarily irritating but easy to forget, as the sanger line at issue is named "Irresistible!", its tagline "Indulgent and smoky!" and so far no enormous lies have been told. The sandwich ("cooked butter-basted turkey, cumberland pork sausage, pork sage and onion stuffing, spiced mayo with mustard and cranberry sauce on sage-and-onion bread") is very nice, even if the compacting of ingredients in the description is probably trying a bit too hard. (Pedants or fanatics see comments thread for ancient dialogue on the definitions of similar snacks, sadly not yet delivered in sandwich form…)
The co-op is actually doing several other festive sandwiches this year — including a turkey and trimmings triple sandwich, a turkey and trimmings wrap, a "boxing day lunch" (not found at the smallish branch I visited), a smoked cheddar and bacon relish sandwich (also not found, or all already consumed), and a beef and ale chutney sandwich.
My notes for the triple say "bacon (too much), cranberry (not enough) & stuffing (far from enough) in malted bread. Also fried onions, which adds to the overall sense of being too salty". This is a common fault currently: the notes for the turkey and trimmings wrap read "unconvinced the rubbery saltiness of a wrap goes well with these ingredients at all".
But the beef and ale chutney sandwich is in fact just right, proof if proof be need be that jam with your dinner is good not bad. Historically I'm neither a beef nor a white bread stan (memories of the v nasty perma-stale sliced white of my youth), but this is a tidily nice fairly delicious little twofer: the bread is lovely and soft, and there's isn't too MUCH to eat, where a lot of the competition this year seem a heavy chore. Not sure how honestly xmas-y beef and ale chutney is, mind you, esp. alongside rocket and mustard mayo…
My final co-op item (this was over two lunches I should possibly note) was the MERRYTEASER MINI REINDEER (presumably available anywhere you can buy maltesers) . Despite promising lumpiness there are only five mini-reindeer per packet, which is bad and yet in another sense good.
Comments
Add your comment
Top of page