Avengers
22
Jul 14
Avengers NOW! and Marvel in the 2010s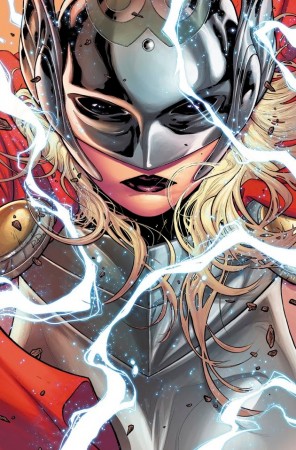 Marvel Comics' announcement that its new Thor is going to be a woman has attracted plenty of froth and comment – especially since it turned out that this was part of a general refreshment of their core titles under the Avengers NOW! banner brand. Captain America is to be replaced by long-standing partner The Falcon (who happens to be a black guy), and Iron Man is going to become a dick (they may have trouble presenting this as a radical change).
There have been a range of responses. Superhero comics are built on the "illusion of change", but apparently have the most reliably troll-able audience in media history, so some people are upset at the idea of a status quo change. That it's a status quo change away from a white guy in two cases – and those two cases are the ones drawing all the heat, nobody is saying "I love Tony Stark! How dare they make him even more of a jerk" – is not coincidental to the level of rage.
»
More
9
May 13
This week Avengers Assemble #15AU came out, by Al Ewing (yes relation) and Butch Guice. The comic is, as Hazel has pointed out, the most British thing ever published (at least by Marvel) and it is absolutely rammed with references – some obvious, some rather more obscure. Because Al is a pro, I reckon the comic is comprehensible without understanding all this stuff, but it's safe to say there are parts of it many US readers won't really get. There's also parts of it which tap a knowledge of recent Marvel continuity, and we'll explain that too.
So here's an annotations post, which in the way of annotations posts will be updated with new information as you uncover it in the comments boxes. (And will also be updated with links and images!)
Contains, obviously, HEAVY SPOILERS for Avengers Assemble #15AU
»
More