7
Jan 19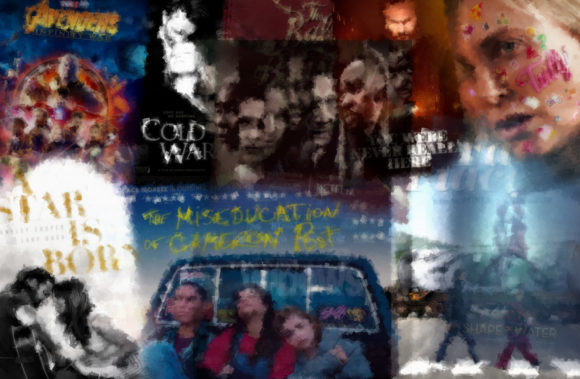 And we're back, to the next segment. I promised you Jean Luc Godard and he does feature in one of the films below, but even his hardcore fans couldn't push his most recent offering into the top forty.
So we have another all female heist, another musical remake, and of course the multi-million dollar bummer that was the Malthusian death of half of all the living creatures in the Universe. Fun fun fun…
30: A Star Is Born
The received wisdom is that Gaga is a revelation as an actor, Cooper is as a musician. That's too glib, they both do everything well, though there are questions here about how much the story ends up being more about the hero worship of Jackson Maine than the rise of Gaga's Ally. And perhaps it plays too easily into a pop authenticity argument you'd think Gaga wouldn't want to touch. But it is a steamroller of an entertainment, edited like a steel trap, and that performance of Shallow is one of the sequences of the year.

29: The Miseducation Of Cameron Post
I've not always been a fan of Chloë Grace Moretz, but she is directed well here to play the lead role with her eyes rather than dialogue, and whilst this is a less broad version of But I'm A Cheerleader… , and it plays out pretty much as expected, director Desiree Akhavan draws out the aching pain out of the idea of deprogramming camps without sensationalism (it also is one of many now period late 2th century films that indulges in cassette fetishism).

28: Cold War
Wonderful high contrast black and white cinematography in this decade spanning bittersweet iron curtain romance. Paweł Pawlikowski directs with his usual taught precision, it comes in under ninety minutes and yet for such a time span never feels rushed, in particular the music sequences linger and do half of the character work here.

27: Tully
Charlize Theron is great in this motherhood burnout piece, and whilst the way it plays out stretches credulity in places, emotionally it is extremely honest. It is also very funny on parenting, gender roles and societal pressures (and also how annoying kids can be). Jason Reitman, Diablo Cody and Theron do seem to bring out the best in each other.

26: The Shape Of Water
Fish Fucking In The USA, Fish Fucking In The USA – hey hey – fish fucking fish fucking…
I found Del Toro's sexed up re-imagining of The Creature From The Black Lagoon a little airless (which I guess makes sense), and Michael Shannon's baddie dreams of being one dimensional but Sally Hawkins manages to wring out of her mute role (another problem to me) waves of depth, and even if it is just an adult fairy tale, it is at least one no-one could have or would have made.

25: You Were Never Really Here
I saw this at the 2017 London Film Festival and it impressed me whilst staying unlovable, and has stayed with me. Not least out conversations about how many discrete flashbacks there are, and quite how fucked up Joaquim Phoenix's character is. It starts dark, and gets darker, and is as interested in the price of trauma with Phoenix, as the trauma the terribly plausible paedophile ring he has to deal with. Strong work from Lynne Ramsey.

24: Faces Places
OK, here is Jean Luc Godard, being a dick and not being in when Agnes Varda goes round to visit him. Well her film is in the top forty, not yours JLG. Varda and JR travel France making gigantic photographic murals of people while musing on mortality, image and why the fuck won't you take your sunglasses off JR.

23: Avengers: Infinity War
Near three hours of payoff to twenty odd films, the film does its best to concentrate on why its purple headed villain is compelling even if his scheme and purpose s daft (particularly on a universal scale) and almost succeeds. There is a somewhat metafictional comment on the genre when it can kill half of its characters off whilst the company greenlights films starring them, but it does at least end in the most convincing franchise Debbie Downer way since The Empire Strikes Back.

22: Widows
Steve McQueen revisits a classic of British TV, and in relocating it to Chicago adds layers of social and racial commentary whilst maintaining the heist thrills. Its a smash and grab job however, and does show its scholcky hand on a few occasions, but the acting talent in the centre is top notch and the film has about six actors all trying to steal it at once (it is probably Debicki who wins but only because Viola Davis lets her).

21: The Ballad Of Buster Scruggs
Whilst I never rereached the heights of delight I got for the musical opening titular segment, the Coen Brothers flip off seven short ideas all of which have a something going for them (maybe not the last one but come on – storytellers in a stagecoach, that is portmanteau movie 101). Does it hold together thematically, probably not, but it is lots and lots of fun? And I am genetically predisposed to like any film in which James Franco dies.

The action is hotting up, see you for 11-20 later in the week.
Comments
Add your comment
Top of page