5
Mar 18
No, not that one, it's okay.  I mean Timothy Thatcher, the wrestling one.  No?  The one with the mean face.  No?  Let's start this story again.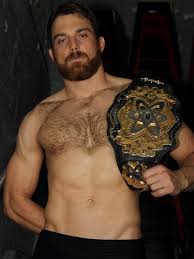 I love professional wrestling.  It can be looked at in so many ways, on so many levels.  It can be gazed upon in childlike wonder as the 8-year olds cheer for the perennial babyface, action figure in hand, head to toe in WWE official merchandise.  It can be a much-needed way to remove oneself from reality for the duration of a match or a 3-hour show, thinking back to the story-lines of the past two months and how this might play out in the run-up to Wrestlemania [points at sign].  You can be a Johnny come lately, beer in hand, cheering "For whoever I fuckin' like – I paid my money."  Or you can take your starting point and … well, just run with it, devouring everything in your path; let it envelope you like a warm blanket or a Yokozuna bearhug, read biography after autobiography, watch Bruiser Brody swing his chain at the terrified fans in Tokyo in the 1980's, laugh out loud at Ric Flair's astonishing backstage promos, obsessively research Andy Kaufman's feud with Jerry Lawler and explore the origins of pro wrestling in the travelling carnivals of America.
You may have guessed which category of fan I fall into and that's why I'm so intrigued by this Thatcher character and what makes this chap tick.

Shall we begin where all professional wrestlers begin?  With a name and a look.  The name is critical; you can glean so much information from the name alone.  Is he a monster (Vader)?  Is she a femme fatale valet (Woman)?  Are they an embarrassing Chippendale style tag team (The Dicks)?
Personally, my favourite wrestlers let their wrestling speak for itself.  Men like Mark Andrews, Pete Dunne and Rampage Brown have no nonsense names, clear identities and get the job done.  But I'm talking about Timothy Thatcher, a Californian native whose career began in 2006 and whose first gimmick was the British Messiah.  He hailed from Brompton.  He wore an English rugby shirt or red military coat and spoke terribly but I'll give him the benefit of the doubt and suggest that time spent in America had diluted his 'accent' and award bonus points for littering his circa 2009 promos with "Bloody," and the phrase, "I kicked him in the bollocks."  As time went on, he lost the accent and concentrated on trying to be the best shoot style grappler he could be.
To paraphrase Indy Darlings podcaster Ben McClung, by 2016 Thatcher was essentially disliked in America as they were bored by him and thought him too British, but he annoyed the Brits with this fake gimmick.  Although he's Sacramento born and bred, his influences are undoubtedly British and whatever the nickname or accent the style is unmistakable.  The name is unmistakable too.  As is sometimes the way with wrestlers, his first name is kept; thus, Tim Moura became Timothy Thatcher.  But why Thatcher?  Yes, it does seem a typically English surname conjuring up images of men atop roofs in ye olden days laying down some serious thatch but for those he's trying to mimic, those of us who are old enough anyway, Thatcher means Margaret.  Maggie Thatcher, the Iron Lady prime minister.  Loved by some, loathed by most.  Loathed enough for 'Ding Dong!  The Witch is Dead' from The Wizard of Oz to reach number 2 in the charts in the days after her death in 2013.  Personally, I'd have preferred Hefner's 'The Day That Thatcher Dies' to have blasted from the living rooms of 40 somethings across the land but you can't win them all.
We will laugh the day that Thatcher dies,
Even though we know it's not right,
We will dance and sing all night.
I was blind in 1979, by '82 I had clues,
By 1986 I was mad as hell.
However, there is another Thatcher in the world of pro wrestling.  His name is Les, he's a legend and as his Pro Wrestling Tees bio explains, "Starting his career in 1960, Les Thatcher has seen and done it all.  He has been a wrestler, trainer, booker, promoter, and television announcer.  He helped produce the very first WWWF colour magazine and was a forerunner in the concept of the very first ever wrestling t-shirt created."  Yes, that's more like it, Timothy.
In 2017, Carsmile and I attended the Freedom's Road Progress tapings in London where Thatcher was the first name announced alongside Matt Riddle.  On our way home after a few beverages, I complained about how unfair it was that people make fun of Tim for having one facial expression; the famous Thatcher grimace.  "Matt Riddle's only got one face too!  He's no better than Tim.  Why does no one take the piss out of Riddle?!"  To which Steve replied, "But Matt Riddle's adorkable!"  "But Timothy Thatcher's adork — oooooh, there's an article right there."
Adorkable (adj): Unfashionable or socially awkward in a way regarded as appealing or cute.
Yes.  Timothy Thatcher is adorkable.
In the late '80's, I was the biggest Brosette EVER.  You could not see an inch of wall in my bedroom for all the Bros posters.  Dad bought Grolsch beer so I could attach the bottle tops to my Dr Martin shoes, I bought jeans from American Classics, I purchased all albums and singles in all formats … and my favourite was Craig Logan.  Not the blond and beautiful Goss twins; the brunette, nerdy mate of theirs.  Not smiley, washboard abs Riddle; the aloof, unshaven Thatcher.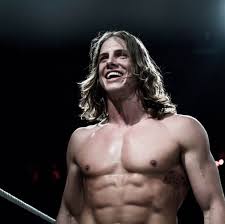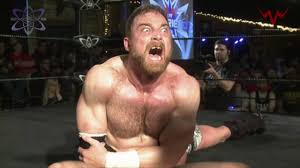 In the mid '90's, I was a Blur fan.  Nothing outrageous.  No posters in my student digs … but I had a framed picture of Graham Coxon on my dressing table.  Not the floppy haired, cheeky chappy Alex; the awkward, bespectacled guitarist.  Not bro-tastic, ethereal Riddle; the headbutting, uncommunicative Thatcher.
I don't mean to be a contrarian; I will fight anyone who doesn't love Mark Andrews, the ultimate blue eye Brit, and I was utterly mesmerised after seeing Riddle for the first time, but I am generally drawn to an underdog and not just in a physical sense either.  On the face of it, reading that Thatcher lost his Evolve title to Zack Sabre Jr after an incredible 596 days may lead you to conclude that his reign was joyous; crowd go wild, held aloft on shoulders of stablemates, showered in confetti and streamers, "THATCHER, THATCHER, THATCHER!"  No.  Those were things that did not happen.  He cut a lonely figure at times.  Backstage clips showed him packing up his gear, checking his ancient Nokia style mobile phone, no allies to speak of among his peers.  He had no friends.
The crowd seemed to quickly tire of Thatcher.  Bored with his persona?  Bored with his technical, shoot style?  Maybe.  But this is why I'm fascinated with this curious character.  The Kaufman v Lawler feud is a personal obsession of mine and whilst I eschew conspiracy theories in everyday life, I did wonder if Tim and company owner Gabe Sapolsky were trolling the Evolve faithful.  A phrase used to describe Thatcher in a recent Cagematch review was 'wrestling nihilist'.
Nihilist (noun): A person who believes that life is meaningless and rejects all religious and moral principles (from Latin nihil 'nothing').
This feeds into my doubtless inaccurate idea that Gabe's plan for the Evolve title was intricately designed to create an anti-champion, a nihil-champion.  Is this the wrestling equivalent of Thatcher singing '100 Bottles of Beer' or snoozing in a sleeping bag on stage at Budd Friedman's comedy club?  Kaufman and Thatcher are undeniably top of their respective games; whether they are to your personal taste is another matter.  Although I don't expect to see Tim compete, Kaufman style, in inter-gender matches any time soon*, I was thrilled to read Gabe's comments in the aftermath of Tim's title loss.  "We experimented.  We were fearless with it.  The title reign was art.  All great art has its critics.  I'm proud of Tim."  Maybe I was on to something?  I'll never know.
Pro wrestling is filled with the weird and wonderful, each character bigger and more colourful than the last.  Tim is a refreshing change with his black boots, small trunks and Dvorak Symphony No. 7 with its Jaws like introduction.  Arrive, turn your opponent into a pretzel, leave.  Job done.
Talking of opponents, his visits in 2016/17 to the UK saw him take on names that on the surface may jar a little; Lord Gideon Grey, Martin Kirby and Joel Redman immediately spring to mind.  The two Freedom's Road shows saw him compete against the London Riots' James Davis and Darrell Allen rather than locking up with Progress trainees eager to learn new tricks.  In December 2016, Joe Coffey took on Tim as part of ICW's Friday Fight Club.  Coffey revealed in Morgan Webster's podcast that this was the first time that he had not discussed a match beforehand; they entered the ring and did whatever felt right.  I have wondered whether Thatcher is seen as a standard of excellence in the field of shoot style wrestling, attracting those who want to prove something either to the fans or to themselves.  Does Kirby want to be a man who 'pisses about' all the time?  I'm sure he relished the opportunity to show the PCW crowd that he can grapple with the best and indeed tweeted this after the show, "Had the pleasure of facing Timothy Thatcher tonight.  Someone who's a total breath of fresh air to wrestle.  Hope we get to do it again soon."  Gideon Grey had a great match at the Cockpit with Thatcher and whilst Kirby and Grey might be better known for their comedic elements, Tim has been known to add a smattering of humour every now and then.  Subtly, mind you.  He's no Grado.
Tim's post-Evolve career has seen him relocate to Germany for several months and his trips to England have increased dramatically, most notably for Progress.  During this time, it's become clear that the tide is turning for our Timothy; the masses have come around to my way of thinking.  I think they've got it!  By George, they've got it!  Okay, the word that immediately springs to their minds may not be adorkable, but something seems to have clicked.  Maybe it's the wXw stable of Ringkampf that he's a part of, which has gradually decreased in numbers over the past year (Alexander Wolfe, Axel Deiter Jr, Walter and Thatcher – only the latter two remain) but have increased in popularity or maybe it's the higher profile he's gained through the sheer number of matches across Europe.
It certainly won't be through his social media profile.  He has none.  His near mute in-ring persona and online presence coalesce perfectly.  So perfectly, me and a couple of friends created #TTAS on Twitter safe in the knowledge Tim would be none the wiser as we discussed why we were the Timothy Thatcher Appreciation Society.  I made 20 badges adorned with his scary grimace to give to friends only to discretely remove mine upon his arrival at a post-show pub.  Carsmile bought the three members of Ringkampf a beer, I muttered something appreciative and we left.  The next day I was reliably informed that he was aware of the badges, wanted to say hello and, ladies and gentlemen, is now the proud owner of a #TTAS badge.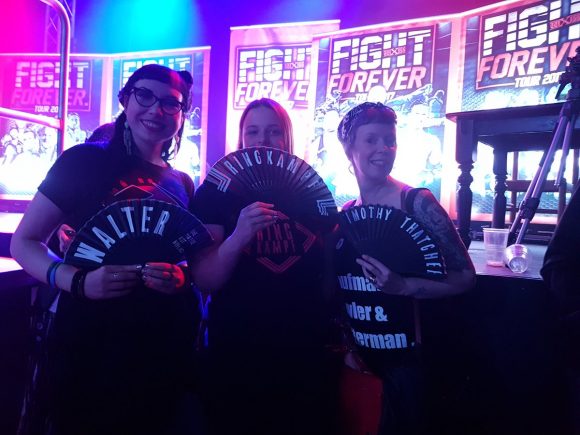 The more I get to know the man behind the Harrington jacket, the more adorkable he becomes.  A 15-minute interview clip with wXw revealed a three-month stint of the UK holiday camps in 2007 with Brian Dixon.  Awesome!  He seemed like an athlete who was humble and continually strives for self-improvement, chuckling in remembrance of "Getting my ass kicked," by an aging Billy Robinson.  Excellent!  After his tag-team match at Evolve 76, his partner and long-time friend, Jeff Cobb, called him out … and called him Timmy.  Adorkable!
*Since writing this, Thatcher has been booked as part of an intergender card at the Beyond Wrestling show in New Orleans on 5th April 2018 against the incredible Toni Storm.  It's gonna be a CORKER!
Add your comment
Top of page