27
Jan 18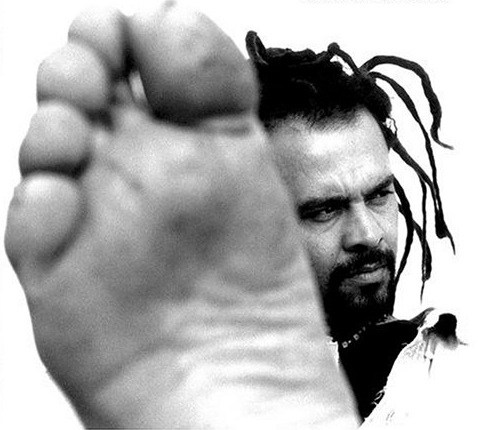 Hi I am Michael Franti and I am here to present the first ever FreakyTrigger TV Poll. Now some of you might remember me, and my clumsily named band, The Disposable Heroes Of Hiphoprisy and my opinion the Television was The Drug Of The Nation. You may not remember our follow-up hits, Don't Sit So Close You'll Go Blind, and Your Eyes Will Go Square They Will. Well even so I have realised that it isn't the TV that is the problem, and so I have returned with the band for a whole new album called Tiny Mobile Phone Screens – The Opiate Of The Masses and will be making hot takes about millenials bumping into things whilst using their mobile phones in a toilet venue near you soon.
Thanks Michael, nice Spearhead – I mean big toe. So here are the first set of results. The TV vote was a lot more spread out than the Movie one, which had the upshot that under our methodology (you had to get two votes) only 35 TV shows actually qualified. And down the bottom they scraped by on a few votes each. Here are the first 11, so I might get this done in three lists (I have a film list to do too you know).
35: Grace And Frankie
Basically its The Odd Couple (the hippy and the straight one), given a little bit of a fillip by its overarching sit, Grace and Frankie's husbands have both left them to be together as a couple. This inflects much of the action of the first season, but by the time the third one came around, it had found a groove which was about these women having a friendship based on shared trauma. Jane Fonda touches on some of her own screen history here, but it is Lily Tomlin who reminds you wnat a great comic presence she is. Very Mum friendly.

34: Wet Hot American Summer: Ten Years Later
I liked the idea of Wet Hot American Summer (a summer camp movie with adults playing many of the kids roles in an absurdist pitch) more than the execution, though it has its lovers. I actually thought Wet Hot American Summer: The First Week Of Camp (where the same cast do a prequel about ten years later) was much funnier. And then this, it catches up ten years, though everyone is still obviously way too young, or even too famous. It has that giddy vein of absurdist humour where if you are in the right mood it will be perfect for you, but only if you are willing to go with it.

32= Star Trek: Discovery
Or, Star Trek Disco as this scene below suggests. Its not you Dad's Star Trek this, for good and for bad. Set before the original series, this gets seriously DARRRRKKKK, seriously silly in places and has infuriated many people. But as a different way of doing a highly serialised wartime Star Trek it is entertaining and having a viewpoint character not be a captain is also interesting (having her as Spock's hithertoo never mentioned adopted elder sister pretty much highlight some of the bad stuff here). But worth it to know rap versions of Stayin; Aline will be around forever.

32= Riverdale
The Archie comics but DARRRRRKKKK. A lot of fun of had taking the all American cheese of the Archie relationship comics and implanting a bit of Twin Peaks DNA, and a thoroughly inappropriate murder mystery. Its a soap, but one which is knowing about its teen milieu, but not usually in an annoying way. And as all versions of Archie must always do – Archie himself is an absolute dick.

31: Brooklyn 99
There have been very few successful cop TV comedies, and this is no Thin Blue Line. It has the Michael Schuur generosity of spirit built into it, a properly diverse cast and whilst it is probably sillier than it should be it has managed to make Andy Samberg a genuinely pleasant screen presence, which ten years ago on SNL seemed impossible.

29= Legion
Bonkers X-Men sort of spin-off which has one of the broader X-Men conceits at its heart, a man who believes he is hallucinating his super-powers, actually has them. But is still a but unhinged. The opening episode set the tone that anything can happen and Dan Stevens, and particularly Aubrey Plaza's performances maintain that air.

29= iZombie
The little Zombie procedural that could runs full bloodedly into its third series and the complexities of the zombie underground, the zombie para-military and the zombie truthers threatened to knock the case of the week (and the brain of the week) out of the spotlight. But its conceit (our zombie takes on personality traits of the brains she eats) is too good to squander and we get Rose McIver channelling a dominatrix, a D&D dungeon master and a Jackass-esque internet stunt guy, and ended its season throwing all the cards in the air.

26= RuPaul's Drag Race
2017 was season nine of Drag Race, and there are two more coming, which really does cement the show as one of the few actual successes of the competitive reality TV show era. Partially because it leans into the competition without being nasty, partially because the low stakes of the show are completely belied by the high energy of the participants. But fundamentally RuPaul is the star and lends the show its class, grace and sense of humour – very few reality shows lean as heavily, or as successfully, as Drag Race does on RuPaul – and it is absolutely worth it (note I haven't actually watched it since season three, but I assume this is still the case)

26= Broad City
Abby and Illiana and sex and drugs and New York City (and one episode in Florida). Again another sitcom well settled into its routines maintaining its stride, as probably the most sex positive show on TV right now.

26= Black Mirror
This squeaked in by virtue of the fourth season being released just after Christmas and the fact that with streaming things, especially anthology shows, have a very long tail. So is this for the sweet Hang The DJ, the sour USSS McCalister or more likely people still on a high a year after San Junipero aired. Who knows?

25: Game Of Thrones
This was the season that overtook the books, and realised it was only about twenty episodes away from concluding. So perhaps it went off the rails, perhaps it jumped a shark or two (it certainly introduced high speed travel across Westeros). But winter has pretty much come now, and Jon Snow still knows nothing and the mother of dragons babies have grown up and – gritty high camp drama is pretty much solidified its reputation by now. Let's see if they can stick the (Kings) landing.

The next twelve or so shows coming soon. In the meantime use the comments to tell everyone why all of these shows are rubbish.
Comments
Add your comment
Top of page