29
Oct 16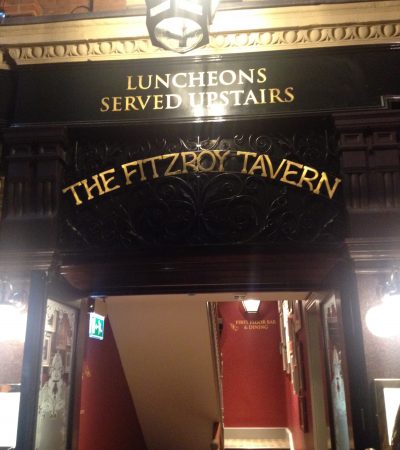 It seemed appropriate to return to writing with a piece about the refurbed (although that's an understatement) Fitzroy Tavern and my continuing love/hate relationship with Sam Smiths. Huge swathes of the pub writing on FT is about Sam Smiths back to, at least, sixteen years ago (Was our Pete the first pub blogger? Yes, yes he was) and six of our twenty five Pubs of the 00s were Sam Smith's houses, but I've not set foot in one of their establishments for a couple of years and not been a regular visitor for much longer. This is partly having more money to spend on beer, partly the increase in excellent places to drink excellent beer in central London but mainly a disdain for Sam Smith's actions as a company (and Humphrey Smith in particular), whether it was closing a pub on New Year's Eve because the landlord was selling full pints, kicking people out of a Soho pub for kissing or just replacing the wheat beer glasses so they are pint to brim. And that's before we get to the farcical situation in Tadcaster where the brewery objected to replacing a bridge (which they've just backed down from).
I'd heard that the Fitzroy had reopened after a year and then Eve's blog post about Sam Smith's popped up in my twitter feed (thanks Boak & Bailey!). So when we were deciding which pub to go to for our regular Friday evening drinks I suggested we met there.
The ground floor of the pub has been completely replaced with a warren of tiny subdivided rooms, in the style of a Victorian gin palace. I dearly hope that this is based on some actual history because, unlike the Lousy Princess Louise in Holborn which had retained most of the layout of the original pub before it was done up, the Fitzroy in its recent incarnation had looked nothing like it now does. They have also done away with any carpets or other soft furnishings on the ground floor and removed what must have been a false ceiling to make the rooms at least a foot higher, which makes it incredibly rackety at half five on a Friday. Because it's brand new it currently feels quite sterile and, to my mind, a Disneyfied/theme park version of a proper gin palace. Hopefully it will bed in, but it wasn't somewhere I wanted to spend any serious drinking time.
Fortunately the upstairs rooms (and I don't think the Fitzroy had an upstairs bar previously) are awash with carpets, upholstered seating of various kinds and, frankly, way too many cushions (which can't last, they'll be dripping with beer within the month). After the noise of downstairs it was somewhat of a delight, especially as we bagged a decent sized table in one of the side rooms. They've gone to town with the art on the walls as well, all by or about the large number of famous artists and writers who frequented the pub in the past. Clearly someone has done a lot of work to get this right.
For completeness sake, the basement is now the toilets and, if my geography is correct, what was the cellar bar is now the, um, cellar.
As for the beer, well they had the Dark Mild on which is a very good 2.8% mild, OB was on cask, if you like that sort of thing (I just can't any more) and there was no sign of the dreaded Light Mild which has caused me to have quite large arguments with friends in the past. The Extra Stout is their (draft) jewel in the crown though. If they weren't so pig-headed about who they sell to, it would be a shoe-in for a Guinness replacement in pubs up and down the country. Interestingly, for a group of people who worshipped at the feet of the Man in the Box, none of us tried the new "double 4" lager (sadly not an 8% replacement for the legendary D Pils, but yet another 4% beer).
It's also worth pointing out that the service was very good, I only really noticed the large numbers of bar staff because they were all in halloween fancy dress last night but it was very good to see a pub not scrimping on this.
What really struck me though was, despite their reputation as penny-pinching misers (I've not even mentioned taking TVs and music out of their pubs to save on licence fees/PRS), there is no way they got change from a million quid with this refit. They've basically built an entirely new pub inside the walls of the old one, for reasons I can't really understand. A very cynical part of me wonders if they've done this "restoration" to avoid having to meet accessibility requirements as they haven't put any toilet facilities on the ground floor that I could see, which seems incredibly odd in 2016, but also a very bizarre way to go about avoiding it?
So, all in all, it's certainly worth popping in, particularly if you remember its previous incarnation, just to see what they've done with the place. My own position on Sam Smith's is, I think, softening a bit, there was a definite wave of nostalgia washing over me last night as I ate my Sam Smith's own brand Pork Scratchings. This certainly won't lead back to visiting their pubs twice a week (ah, the heady days of 2003/04…), but I won't immediately turn up my nose if someone suggests a pint here…
Comments
Add your comment
Top of page