24
Jan 20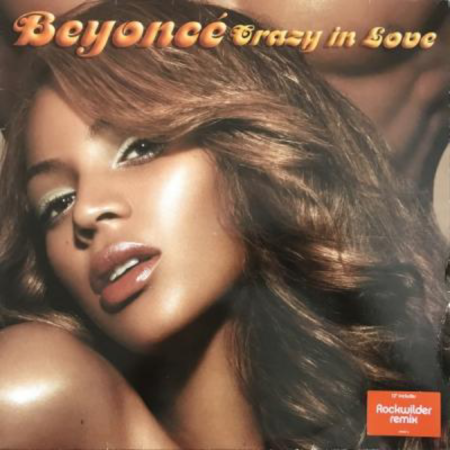 History in the making," says Jay-Z in the intro, and he's been proven right. As I've said before, there's a temptation with Beyoncé to treat her big moments as inevitable steps in a process of becoming. Her control over her career and image in 2019 – and the directions she's gone and grown in – exerts a retroactive gravity on the rest of her story. "Crazy In Love" really does feel like a historical landmark, which can make it difficult to recover as a living single.
It's difficult for Beyoncé too – on her 2019 Homecoming live album she drops it at the start of her set, in a place of honour, and at first treats it with the warmth an old friend deserves. It's a way to show how she's grown as a singer – her voice on the first verse is richer, fuller of feeling, than it was on the original. But halfway through the song she turns away from it, first following the line of its beat into a funk jam then switching out from it entirely.
"Crazy In Love" is a song about the spontaneous madness of desire. "Crazy In Love" is the debut single of capital-B Beyoncé. Neither of these is as straightforward as they seem.
The debut single first – of course, even at the time, it truly was a big deal. Destiny's Child went on hiatus just at the moment where a generation of (slightly guilty) pop critics were desperate to acknowledge the group's role in redefining R&B and railgunning it into the future. But "Crazy In Love" doesn't fit that storyline. Rich Harrison's production is a work of old-school hip-hop beatmaking, finding a sample, lightly polishing and cutting it and then building the track on top of it. The nervy cowbell rhythms of "Crazy In Love" are all the Chi-Lites; the song's glorious signature blast of horns too.
So "Crazy" is a turn away from the Destiny's Child sound, and by association from the glitchy, skittery futurism that had come to define turn-of-the-century R&B. Harrison had been nursing the beat for a while, aware of how it didn't fit his genre's prevailing trends. But it sounds bold and aggressive and its brass-heavy thrust asserts Beyoncé's rightful connection with the history of R&B and soul music.
This claim to a musical inheritance had a parallel with what her new partner – this song's guest star – had been up to. Jay-Z's 2001 The Blueprint glittered with big, expensive, familiar samples; statements of conspicuous wealth and status as well as proven-quality backdrops for Jay-Z's drily conversational, deceptively unflashy flow. Like Harrison's grandiose sampling on "Crazy In Love", the Blueprint sound was a break from both the recent past of intricate drum programming and the previous era of crate-dug samples and esoteric beat knowledge. As a sound for the 00s' top-drawer stars, it cast them as aristocrats, not pioneers.
On "Crazy In Love", Jay-Z is a little boxed in by his surroundings, his freestyle more bent into shape by the rhythm than loosely curling around it the way he does on his own material. Bits of his verse sparkle – like the yes-sir/texture/best-fur run – but there's none of the magisterial offhandedness of his prime work. On the other hand, he's not here to steal any shows. His feature does its job in the structure of the song, giving Beyoncé a pause to reflect then return, riding the horns back in triumph for the climax.
That structure gives "Crazy In Love" its kick, beginning in the way Beyoncé's performance starts subdued, especially next to her commanding turns on "Survivor" and "Independent Women". She's confused, doubting her reactions. But the horn breaks work as an accelerant, pushing her deeper into the feeling, so for the second verse she's rediscovering her poise, and after Jay-Z's spot she surges back into the song to own and celebrate her disrupted emotions.
So when she sings "I'm not myself" she in fact sounds most herself, the charged-up Beyoncé fans expected and wanted to hear. The lyrics of "Crazy In Love" tell a story of a woman losing her identity in desire. But Beyoncé's singing of them tells a different story, of making the crazy work for you, letting it reforge you. It's a better story, too.
9
Comments
Add your comment
Top of page