28
Dec 19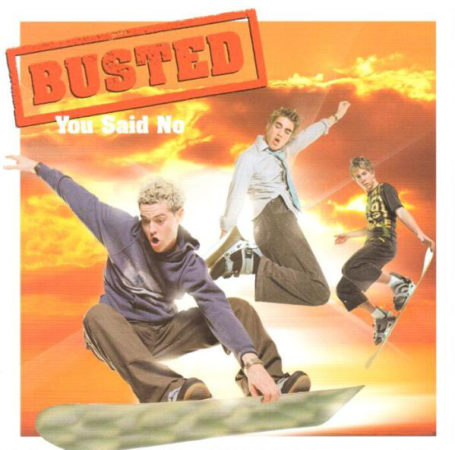 While Busted enjoy a warm second career on the reformation circuit, time hasn't always been kind to the hairy-palmed pop-punk they kicked off with. The line between cheekiness and creepiness has shifted in the last fifteen years, and a song like "Britney" ("Tracking you down on the internet / Cos I ain't seen you naked yet") was likely on the wrong side to begin with.
But the basic idea of the group – perpetually horned-up, heart-on-sleeve lads with a soft pop centre – had a real freshness to it, especially relative to the lukewarm likes of Blue. Smash Hits, struggling to connect in an age of media-trained stage-schoolers, saw an opportunity to get back to its own ireevertent roots. It ran its equivalent of "I have seen the future of rock and roll and its name is Bruce Springsteen", endorsing Busted with a front cover before they had a single out. Said single, "That's What I Go To School For", was the Busted approach in early but complete form. Puerile, but great to sing after the pub, and just energetic enough to escape its own skeeviness.
There were lots of ways that concept could go wrong, and Busted tried most of them. But the pleasure of the group was never quite knowing which version – goofballs, lads, jerks or emo kids – you'd get and whether they'd pull it off (within a musically pretty basic framework). The band had internal tensions over its material and direction which played out intriguingly in public. It was hard to reconcile the group who made dumbass classic "Year 3000" with the one who made some of their later hits, but that kept things interesting.
On a song-by-song basis, though – which is how we have to meet them on Popular – the charm isn't always evident. "You Said No" is a pettier cousin of Wheatus' rather lovely "Teenage Dirtbag" – this time the dirtbag gets a happy ending not by winning over the girl but by dating her sister to spite her. It's all a bit mean-spirited. Musically, at least, it's closer to being prime Busted. It's got two of the things they did really well – chantalong na-na-nas and a spring-loaded, high impact chorus (the three members would do a "Busted jump", legs flipped up behind, at such points) – but these land partly because the rest of the song is a little feeble.
Busted regularly met criticisms that their schtick, was, in its way, the same as Blue – taking a hot American style and diluting it for the more timid Brits. A tutorial level for future Kerrang! readers who'd prefer the redder meat of Blink-182, Green Day, et al. On their best stuff, as we'll see, the need for pop appeal made them more interesting, not less. But a track like "You Said No", full of peevish melodrama, is where that line of attack rings truest.
5
Comments
Add your comment
Top of page