28
Jan 16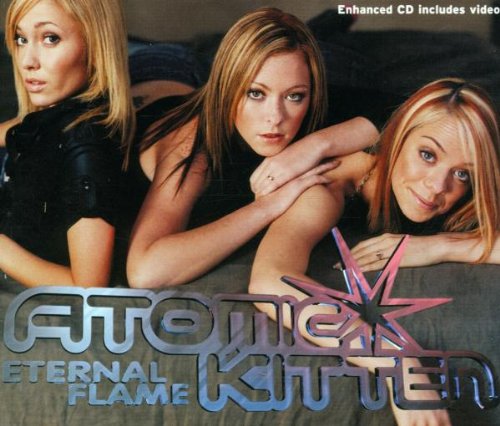 I feel I was harsh on "Eternal Flame" last time we met it. That may be because the Bangles' original sounds like a masterclass in dynamics, production and passion next to the Kittens' effort, which has the romance and mystery of a freshly starched Tesco uniform. In Atomic Kitten's first appearance here, their glum ex-svengali Andy McCluskey lamented the way his pop experiment was derailed by success: here's the proof, as the square peg of "Eternal Flame" is forced into a round "Whole Again".
You can see why the song was picked – it's well-known, a proven winner, but old enough to be marketable again. These last pre-YouTube years are the heyday of the risk-free cover version, and the success rate of the strategy makes for too many dispiriting, forgettable hits. But in every way bar the strictly commercial, this is a terrible choice of song. The power of "Eternal Flame" is all in its vocal and arrangement – the progress it makes from uncertainty to conviction, and the way Susanna Hoffs' phrasing makes rote sentiments ("I watch you when you are sleeping…") feel lived. Tinny production aside, it's a much stronger recording than I gave it credit for.
And Atomic Kitten learn nothing from it, letting the song fall back into being a ditty, a pleasant hook or two with no prominent qualities. The biggest offender is the production, a "Whole Again" style drum loop that makes "Eternal Flame" a steady jog without particular highs and lows. That worked for "Whole Again", lent it a naïve simplicity which matched its primary-colour sentiments. But it makes "Eternal Flame" sound like the pop equivalent of a paint-by-numbers book. Every record is someone's first, but they don't have to sound like it. The smoothing affect applies to the vocals, too. Atomic Kitten had been an erratic band – much promotion, little success, until lightning stuck. The priority with "Eternal Flame" was to integrate new member Jenny Frost and steady the band, but they do too good a job: the singers' vocal lines are barely distinguishable, and nobody has an ounce of character. The joie de vivre of the slapdash Katona days has drained away, the eternal flame is an energy-saving bulb, and Atomic Kitten are the most boring pop group in the country.
2
Comments
Add your comment
Top of page