10
Aug 15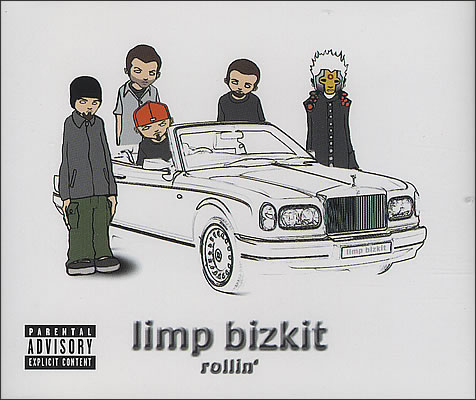 "Take my advice," says Fred Durst on "My Generation", "you don't want to step into a big pile of shit." Wise words. But shit comes in many forms. The spoor of Durst, the self-styled chocolate starfish, the anus, is compacted nuggets of resentment, pinched out rabbit-style in single form, delivered with a constipated grunt or haemorrhoidal yelp. Wes Borland, in skullpaint and bodystocking a guitar-FX Eno to Durst's reverse Ferry, takes a contrasting approach, conjuring torrents of colonic sludge, shitrush splatter effects and bowl-cracking divebombs. In the parade of number ones, between a career-building film star and a girl group's last-chance classicism, "Rollin' (Air Raid Vehicle)" is more than a surprise, it's a dirty protest. Back up, tell me what you're gonna do now! Grit my teeth, reach for the imodium.
They're an easy target. How bad is it really? "Rollin'" is one of the worse Limp Bizkit singles, because it moves away from their standard M.O. of reflexive bitterness, anger at a world that isn't giving them what they want. They were good, I grant them, at packaging that up into noisy, hooky, usefully unspecific grievance bombs. "Nookie" – if ever a word signalled how old an intended audience was, that's the one – is as targeted as they get. Otherwise they're sticking up a finger to nothing, forever on the edge of a violent tantrum whose stakes we never know. Is that what being a 14 year old boy feels like? Sometimes. Often enough to win them an audience. Early adolescence – Durst was 29, but this doesn't feel like grown-ups' music to me – often means being promised a world and told, by your parents, your peers, your body, "not quite yet". There will always be a market for catharsis: Limp Bizkit was one iteration. And it wasn't just boys who responded – nu-metal in general had a mixed audience it never got credit for and barely respected, enough that fellow travellers Linkin Park could be derided as a "boy band".
Durst strikes me as a goon though, a jock on the make, his self-pity dredged from nowhere deeper than his own reserves of entitled impatience. "Rollin'" finds Limp Bizkit in unusual, celebratory mode, on top of the world, not finding sullen fault with it. This is a grisly development: it means that on the verses Durst drops his low growl and raps in a higher voice, hatefully quavering and quacking. It's an infuriating sound, and Borland's music – an aggressive, inventive soup of riffs and lunges – deserves a lot better. But any music would. A gollumish peak arrives when he chides the haters: "you need some better beats and, uh, better rhymes". It's all in that "uh", a condescending little chuckle from a man whose rhymes would shame a Five single. Hearing it, though Fred Durst is older than I am, the generation gap yawns in front of me; I become a retired Colonel spluttering over his port. The gall of the man! The effrontery!
It's a ridiculous reaction, just what Fred would have wanted – he picked the name of the band to actively repel the curious, and paid a radio station to play their debut single a nerve-straining fifty times in a row. Trolling, button-pushing, and us-v-them posturing were apt games for a man whose records were such a sulky churn. Durst played them remorselessly, even after the wretched depths of Woodstock '99, when his band became the soundtrack for a weekend of searing heat, price-gouging, arson and ultimately rape. Were Bizkit to blame? No – start with the negligent organisers. But Durst's asinine on-stage commentary – "Don't let anybody get hurt. But I don't think you should mellow out." – exposed the limits of catharsis, "letting out the energy", as he put it. Energy is cool and all, unless you're in its way.
No shit stuck to Durst, or at least the people whose dollars mattered didn't think he was a prick, even if the matter was settled for anyone else. The band carried on as before, spun the notoriety into "Rollin'" and "My Generation", and the Chocolate Starfish And The Hot-Dog Flavoured Water album, their sales peak. "Rollin'" was a brag, a cry of triumph, for the ladies and the fellas and the people who don't give a fuck. In Bizkitland, not giving a fuck was the highest known virtue. And yes, part of me wants not to give a fuck, to meet "Rollin'" on its own terms. Someone once played it at Club Popular – the trollish esprit du Durst manifest in the DJ booth. It was horrific, and hilarious, and the best way to hear it, as Borland's propulsive hippo-rock drowned out Fred's mewling.
So you can find contexts where "Rollin'" works, where its dump of noise and half-competent rapping is a vulgar virtue. Maybe the number ones list is one of those. But mostly it's a painful chore, and that's squarely because of the very dreadful Fred Durst. He's the law of unintended consequences made flesh, the point where a bunch of 1990s ideas – House of Pain's frat-hop, Rage Against The Machine's spluttered fury, Kurt Cobain's self-loathing, Black Francis' screams and yelps, Beavis and Butthead's wit – are driven first to their grim conclusion, then right over a cliff.
2
Comments
«
1
2
3
4
All
«
1
2
3
4
All
Add your comment
Top of page