4
Jul 15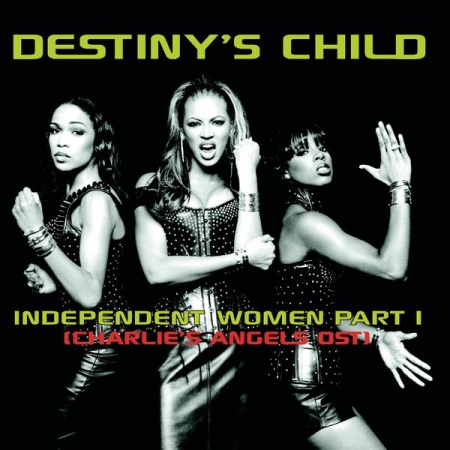 It's hard not to let what Beyoncé Knowles was become swamped by what she is. A veteran, an icon, a woman enjoying a remarkable critical peak, an earner, second only to headphone mogul Dr Dre on current musical money lists – Beyoncé, as she is happy to tell us, works astonishingly hard, but one of the things she works at is controlling her narrative, shaping her career so that each step seems higher than the last, and her success appears pre-ordained. It was there in the name of her own group. "Child of destiny… independent me…". But that's only a story. Nothing is really inevitable, and Beyoncé enters Popular running, working, managing her options, using her group's remarkable success as a springboard, while trying to win a PR battle over the palace coup that finished a multi-platinum line-up and cut a quartet to a reshuffled trio.
The stakes were very high. The Writings On The Wall sold millions and helped reinvent its genre. In sound and attitude, the singles from it were astonishing, particularly "Bills Bills Bills" and "Say My Name", which would glide, jab, purr, stutter, break down into precise micro-maps of beatwork and then be reconstituted in time for their earworm choruses. The group themselves were a match for their production, just as happy to change modes mid-song. Or even mid chorus – take the way "Bills Bills Bills" jumps from the sweeping repetition of "bills….bills…bills…" to the sudden, sprightly kiss-off of "I don't think you do / So you and me are through". On "Say My Name" the angry stacatto of the verses, and their rushes of paranoid realisation, complement the keening, screw-turning chorus: it's a masterpiece of suspicion and wrath, playing off the great history of those emotions in soul music while sounding like nothing before.
But the group who made those songs was gone. LaTavia Roberson and LaToya Luckett complained about the management and found themselves discarded mid-video. By "Independent Women", one of their replacements had already quit. Destiny's Child was now a trio. That would be its final and platonic form, its megastar incarnation, one that still reforms now and then. Luckett and Roberson became the Sutcliffe and Best of the group, banished from Destiny's Child before things really got big – or so the new story framed it, and never mind that no subsequent album actually sold as much as The Writings On The Wall:
Big was certainly the plan. Survivor – the album – is a soggy thing in parts, but it announced itself with unparalleled clarity and determination: three singles, three manifestos. "Independent Women, Part 1" was the first, with the most to prove. Right away, it's clear something has changed. The switches and feints of "Bills Bills Bills" or "Say My Name" are replaced by a far more direct approach, a straight-to-the-point funk loop that bumps away all through the song, a framework to showcase its three singers. The aftershock of the new lingers – this record may streamline and back off from earlier advances, but it still sounds thrilling and self-possessed, confidently honing its approach while everyone else catches up. But there's no question anymore of the production becoming the star. Whether or not 'futurism' was ever the point of Destiny's Child, it isn't here.
The group's lyrical approach has also hardened. The 1998-9 singles were vignettes: little bullet-time panoramas circling a particular interpersonal crisis just at the moment of collapse. "Independent Women" throws out that approach and again prefers something that pulls your focus onto the singer: a song built around a rhetorical device, the snapped "Question" at the start of every line. It's remorselessly direct: economic and sexual independence were always in the music, the subtext of "Bills Bills Bills" or "Jumpin' Jumpin'", but there's zero room for subtext here. The new Destinys' Child is ruthlessly on the nose.
So whether we want to be anachronistic or not, there's no escaping it: everything's pointing in the same directon. The music toned down, more a framework for its singers. The lyrics turned into a rhetorical barrage, keeping the focus squarely on who's delivering them, not their situation. And the basic mathematics of the new group. There's no centre to four (or at most – this was Roberson and Luckett's complaint – a double centre), but three resolves into a natural shape on stage and on film, a V formation. Just ask Mary Wilson and Flo Ballard. While the spotlight in Destinys Child sometimes rotates – and Kelly Rowland's glorious, camera-pleasing repertoire of smirks, side-eyes and reaction shots is the group's secret video weapon – this incarnation of the band is a machine built to make a singer famous.
Before it can do that, there was a film to promote. "Independent Women" tackles its job as a soundtrack single for Charlie's Angels as directly as it tackles everything else. Beyoncé isn't just sharing the spotlight with her co-Childs, but with three other women – Lucy Liu, Drew Barrymore, Cameron Diaz – who get individual shout-outs alongside constant lyrical nods to the film. This is a hostage to fortune, you might think – Charlie's Angels was a sharp, fun movie, one I remember with only fondness, but "Independent Women Part 1" is a landmark record by one of the major 00s pop groups. There's certainly a risk the constant product placement might diminish it now.
I think it dodges that risk. Partly it's that within the economic game the record uses to define independence, showing off your soundtrack deal is plainly a legit move. Partly it's the thematic tie – Charlie's Angels is a vision (or fantasy) of a Hollywood where women get to front action films, and the line between the record made to promote the movie and the record Destiny's Child would be making anyway is almost invisible. ("Synergy", as the memos no doubt put it.) Mostly it's just that the record is so forceful a celebration that it brushes caveats aside.
Because while it's easy to see Destiny's Child's new directness in terms of what's been lost, this is pop, and there's an advantage to making the obvious unavoidable, going all-out for the anthemic. The context the group operated in wasn't just their earlier singles, it was a trend within R&B of probing power-games and inequalities in relationships: TLC's flaying of impecunious suitors on "No Scrubs" just the most prominent example. By September 2000, when "Independent Women" came out, Billboard could refer offhanded to "a wave of male-bashing sweeping R&B". If they didn't have the no-nonsense stringency of Destiny's Child's '98-'99 singles in mind, others were happy to lump the group in. The concern was overstated: rock and pop songs had been about women, money and sex since forever. The only twist was now the women had – on record, at least – control of the money and the sex. But the trend was real enough. "Independent Women, Part 1" doubled down on it by presenting the underlying theme as starkly as possible.
That meant cash: if you're going to do a song about independence, you aim for what keeps people dependent. "Independent Women, Part 1" is as clear sighted about the transactional side of relationships as any Gang Of Four song – the difference being that the critique is pragmatic not systemic. The solution to inequality is to earn enough to afford what you want yourself. Here's where the song's focus, its musical and lyrical bluntness, pays off – the successive "I bought it… I bought it… I bought it…" is a stirring application of force. And then the record plays its best trick, taking the latent churchiness within the preaching, rhetorical style and unleashing it for the chorus, turning individual autonomy into a communal celebration – "throw your hands up at me!". It's not solidarity, exactly – no room for those who can't or won't earn. But in that moment, "Independent Women, Part 1" – the anthem, the film promo, the comeback, the crest of a trend, the next step in a business plan – lives the dream of the virtuous market, where all interests perfectly align.
8
Comments
«
1
2
3
All
«
1
2
3
All
Add your comment
Top of page