8
Jun 15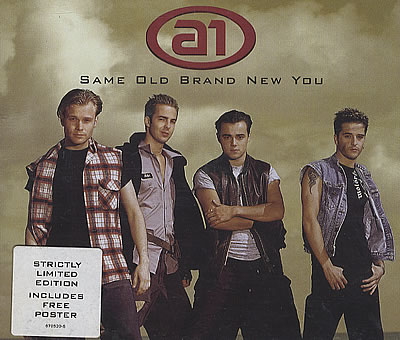 A1's "Take On Me" was a needless re-spray of the prior generation's classic pop. Now their magpie tendency turns to their own times. After Billie's "Day And Night", this is the year's second I-can't-believe-it's-not-Cheiron number one, a studied and whole-hearted application of the uptempo Swedish style to an English boyband. "Same Old Brand New You" makes no secret of the moves it's learned from its sources, and adds only the lightest of new twists in the form of a body-rockin' electro breakdown.
It ought to be as cheap and dismissable as "Stomp". But somehow it's not – "Same Old Brand New You" is a minor gem, a song that never fails to sweep me up with it, and the best boyband track since Five's "Keep On Movin'" at least. It's not an especially complex song – it has no hidden twists or musical surprises. It does have a big, satisfying faux-Max chorus that it builds itself around very effectively – everything in the track teasing and cranking up towards the dramatic "gone, gone, gone" refrain that ignites the chorus hook. And it's a boyband performance that makes excellent use of its modest resources. The autocue vocal readings that spoiled "Take On Me" are replaced with a song that splits and rejoins its four slightly wheedling voices with real panache: the nervy defiance of the "same old line / one more time" sections, for instance.
That doesn't fully explain why this works, though. Compare America's boybands, and their real-Max uses of the bombastic, percussive-chord style: "Larger Than Life", "Everybody (Backstreet's Back)", "It's Gonna Be Me". They're all about self-assertion, the Cheiron style as a young man's confident swagger. Those boys do get vulnerable, of course, but they do it ballad style. A1's song is different. The boys are on the losing side in this relationship, confused and left reeling by a woman's caprices. "If you don't wanna find me gone, gone, gone, gone, gone!" they sing, but the way their voices corkscrew around the word, spiralling down into the chorus, you know there's no hope of them making good on that threat, of escaping the torment.
A1 succeed, in other words, not because they're trying to be Swedish, but because they're trying to be Britney – the abject, melodramatic Britney of "You Drive Me (Crazy)". It's a good look for them. An idea presents itself: British boybands often spark most to life when they have to act like losers – when their borrowed moves and practiced lines won't be enough, and desperation pokes its way through. Westlife – who never expose themselves like this, even when their songs offer a chance of it – often remind me of the 1950s and 1960s in the worst way. But there's something about "Same Old" that recalls Joe Meek and the wounded urgency of his productions for the Honeycombs and John Leyton. For all its counterfeit modern finery, "Same Old Brand New You" lives by the same thing groups like A1 have lived or died by since the sixties at least: the unselfish conviction they can bring to their lies, pleas and promises when cornered.
8
Comments
Add your comment
Top of page