26
May 15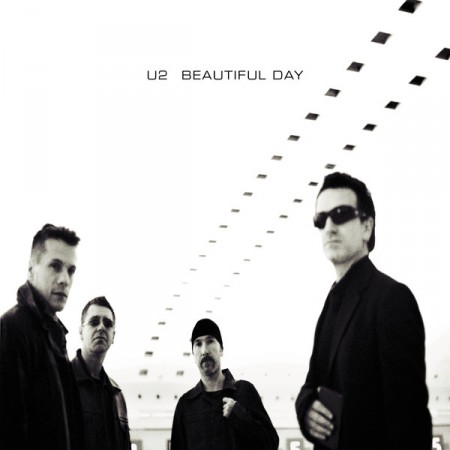 A theological detour. The rise of New Atheism – Dawkins et al. – seems to have made it somewhat infra dig for lifelong unbelievers like me to admit there are things we respect and admire about religions and the religious. But of course there are. For instance, one of the things I find most admirable – perhaps I just mean enviable – when I meet it in Christians is the sense of faith as a reserve of redemptive strength. The feeling that, no matter how bad things are, no matter how bad you are, Jesus loves you. The fact I don't believe in him doesn't invalidate the testimony of millions who have found this kind of grace when they needed it – any more than their belief invalidates the experience of those who reached for it and could not find it. I believe what they're taking is a placebo; they believe it's the real thing. Whoever's right, they get a chance at the benefit, and I don't.
Or don't I? That kind of feeling saturates "Beautiful Day" – one of U2's most obviously Christian singles, full of grace and floods and doves and no-room-at-the-inn. And I feel this song well enough. I think it's the most honest and moving record Bono and the crew have landed at Number One – the one where the reliquaries of rock'n'roll and the baggage of experiment are jettisoned, and Bono sings a big, slick modern rock song about faith. Sings it well and cleverly, too – the quiet, beaten-down tone of the opening verse, that halting gap on "lend – a hand", the breakdown into gutterals on some of the closing chorus lines; these things dramatise the idea of a man on his last chance. "Reach me – I know I'm not a hopeless case", he pleads: there's a need I can relate to sometimes. You don't need to feel God is your judge to understand the urge for redemption. Irony abounds, of course – Bono's performance here rests on him selling the idea of himself as a man of great humility. But sell it he does.
U2 are Christians, not Christian Rockers (though, like indie, that's a genre defined by distribution and audience more than content). They are careful to make sure "Beautiful Day" is also about a lover, or a shitty week, or anything a worldwide audience wants to make it about. But I hear religion in the song's bones. And in any case, religiosity is rarely far from the surface of stadium rock. I once wrote a piece for Pitchfork about rock music as "secular gospel" – something that harnessed the sense of yearning, awe, and the numinous in religion and translated it into a folk idiom, like soul music slyly borrowed the tactics and techniques of Church music to sing about earthly desire.
But these strategies come with a price. You don't have to believe in God to believe in ghosts – that when you borrow from the spiritual, other inevitable associations might make the journey and haunt the music. So soul music drew on gospel to describe love and lust, and often became, at its strongest, a music about sin and the terror of judgement. Rock music harnessed the scale and awe of religion, and brought upon itself the imp of reformation – the itch to purify, refocus, be born again. In the 80s, on a song like "Bad", U2 took a track's length to build up a questing, burning fervor. On "Beautiful Day", that big, stadium sized music is out of reach at the start of the song – it flares for the chorus, but dies: they have to earn it back.
Perhaps, after the exhausting – and exhausted – mess of Pop and its tour, humility came easier. U2 needed that purification themselves – though you could argue they've never moved significantly on since. Bono apparently objected to The Edge's guitar tone – too retro, too close to the band's new wave roots. But "Beautiful Day" isn't, and isn't trying to be, the kind of spontaneous small-band performance The Edge's move might indicate. From its glimmering keyboards to its slightly arid drum sounds, this is as meticulously crafted and fretted over as anything on their 90s records, it's just ended up somewhere more straightforward. It takes smaller bets than Zooropa or Pop, and they pay off: the sudden cut-ins of backing vocals on the chorus (and bits of the verses) are a good, effective example, giving a sense of the singer shored painfully up as he contemplates his life. "Beautiful Day" is a success, but U2 have become what – for better and for worse – they never used to be: a band that knows what they're good at.
The biggest risk "Beautiful Day" takes is its sudden expansion of scale in the middle eight – "see China right in front of you", and so on, accompanied by a ripple of William Orbit style keyboard. It shows its protagonist all the kingdoms of the earth – OK, the song isn't all humble – not as temptation, but as a reach towards a more redemptive view, one that acknowledges the problems and error of the world but wants to love it anyway. Whether this planetary point of view is global or simply globalised – the airy take of a jet-setter with the ear of the mighty – it's the emotional crux of the song, the turning point at which the singer shrugs off his own narrow troubles and gets that shot at redemption. If it works, the rest of "Beautiful Day" falls into place. And, for all my grudges about the man and his band, it does work. It earns the urgency of the coda – "if you don't know you can feel it somehow", a singer willing himself back to stardom. I am no closer, I think, to believing in God. But for a few minutes here, I can manage something quite as unlikely: I can believe in Bono.
8
Comments
«
1
…
3
4
5
All
«
1
…
3
4
5
All
Add your comment
Top of page