18
May 15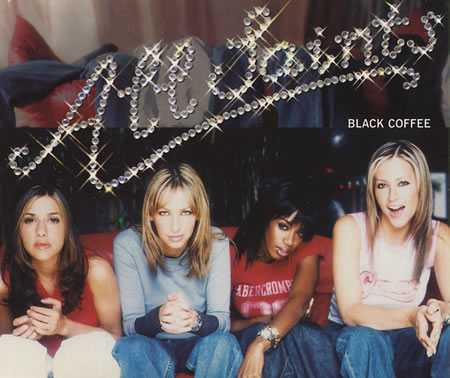 All Saints' final number one is their most oblique, their most grown-up, also their finest. The song barely glances at its title – a pair of words out of a hundred in the lyric – but the whole record is a glance or a quiet smile, a celebration of tiny satisfactions, and of finding yourself with someone who conjures them so easily. "Each moment is cool / freeze the moment". It's a song, most of it, about feeling contented – a rare subject for pop, which prefers to nose out conflict (the video finds some anyway, staging "Black Coffee" as a post-Matrix bullet time break-up drama). There are songs – cousins to this, like "I Say A Little Prayer" – that capture the way love makes the everyday blush with significance, but "Black Coffee" is after something more comfortable. A day with your lover, as casually sweet as all the other ones. Nothing's perfect, but "Black Coffee"'s rippling, overlapping melody lines make even the quarrels sound blissful.
It's a lovely record, two late 90s takes on pop meshing and peaking: All Saints' idea of a British female harmony group, and William Orbit's gorgeous dissolve of pop into ambient bubbles and flows. (Both now disappear: All Saints split, to largely unsuccessful ends; Orbit, jilted by his primary collaborator, stepped back from the charts.) The combination, as on "Pure Shores", is irresistibly of its time: unlike that record, "Black Coffee" isn't pure escapism. Around the edges of this playful song snaps another, one with a harder bite. The opening and breakdown of "Black Coffee" – crunching drums, radar synths – is like a more unforgiving world which our couple spend the mid-song cocooning themselves away from.
The snap and turn of those opening beats makes me think of catwalk photography; the video feels more like a magazine shoot than a relationship. Probably more than anyone since the early 80s, All Saints were a band who felt like they belonged in fashion, a style press imagining of what pop could be like. They always looked the part, but often the music strained too hard to live up to its references. Finally, with the Orbit collaborations, they got there, and "Black Coffee" is the greatest realisation of the All Saints concept – their most perfectly glossy exterior, and only warmth inside.
9
Comments
«
1
2
3
All
«
1
2
3
All
Add your comment
Top of page