7
Apr 15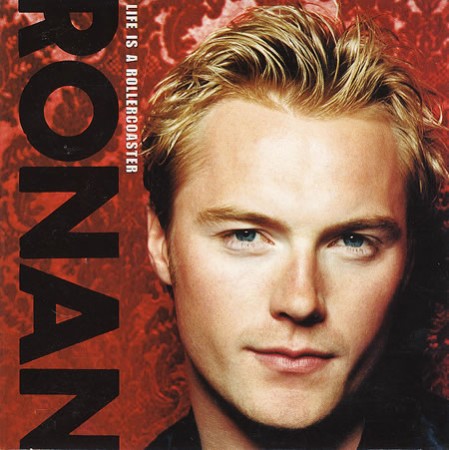 Fishing for critical angles in songwriting credits is a mostly futile endeavour. You soon learn the sad truth: the distribution of talent and memorable style is as skewed among writers as among everyone else – including the stars and hopefuls they work for. Consistency – never mind individuality – is a rare gift. More likely the trawl through Discogs and Wikipedia reveals the half-forgotten boyband hit as the peak of some toiler's career. But every so often a partnership between star and writer works, and sometimes in surprising ways. This is the only number one Gregg Alexander – ex New Radicals – wrote for Ronan, but he was heavily involved with every one of the singer's early solo LPs. And listening to "Life Is A Rollercoaster" it's easy to hear why. Alexander solved a real problem for Keating: how to make the Irish boyband style work for upbeat songs.
The Boyzone, Westlife and Keating style has up to now been a placid thing – given, at least on paper, to great agonies of the soul, but not blessed with much pep. Standard boyband approaches to uptempo numbers at this point in time didn't suit those groups. The Cheiron ballad style worked fine, but Backstreet-style scando-pop was too pneumatic, and sounded too young for the wider audience Ronan is after. The other option – pop with a dash of hip-hop, a la Five – seemed far too radical for the Louis Walsh stable (on this occasion, his instincts were surely right).
Gregg Alexander offered a different route. "You Get What You Give" had been a massive hit because its yelping optimism sounded so fresh and unreserved, but its musical roots were a remembrance of the clean, MOR sound of 70s and 80s radio pop. The alt-baiting lyrics – "Courtney Love and Marilyn Manson / You're all fakes run to your mansions" – underlined Alexander's reactionary zeal, his desire to present himself as an idealistic new broom ready to spring-clean a cynical, dead-end decade. Marketers would come to brand that kind of earnest enthusiasm as "millennial", though Alexander himself was well-heeled: his showy contempt for fakery born out of a scrappy career as much as idealism. Having proved his point with a smash, he quit in short order to write for others.
"Life Is A Rollercoaster" – apparently meant for a second New Radicals LP – is a product of that, cut from the same cheerful cloth as "You Get What You Give". Alexander had no snobbery when it came to picking who to write for, happily bedding down with popular but unfashionable acts – as well as Keating, he wrote hits for Geri Halliwell and Texas. His style is as identifiable on this as Mutt Lange's was on "Breathless", and a comfort to the same broad audience: woo-woo backing vocals, a rousing chorus, and a general sense that the world and its challenges can and will be overcome by anyone spirited enough. Despite some strong early hits, Alexander's star as a professional songwriter fell as the decade continued: for no definite reason, but maybe the world changed enough that his sunshine touch lost its appeal.
Meanwhile "Rollercoaster" is comfortably the best song Ronan's been involved in, though he lands a little out of his depth. He's too solid a fellow for the devil-may-care bravado of the record's most memorable lyric, "Hey Sugar / You almost got us punched in a fight", he falters and ends up flagging, not vaulting, the line's slight clumsiness. His performance blunts the record, replacing any bluster with a slight stodginess. Life may well be a rollercoaster, but it's quite a mild one and you'd certainly feel comfortable letting the kids on.
6
Comments
«
1
2
All
«
1
2
All
Add your comment
Top of page