9
Apr 15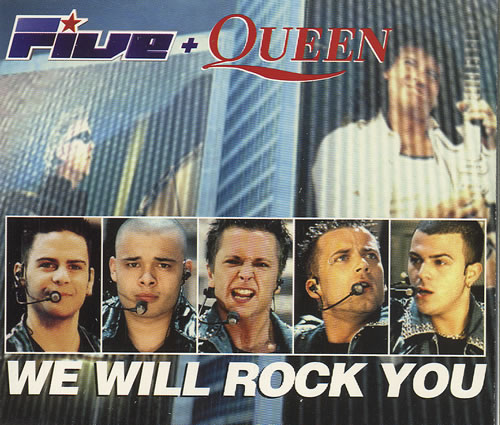 2014 saw Queen reach an unfortunate milestone – they've now been going for longer without Freddie Mercury than with him. It's been an odd 23 years. John Deacon bowed out with some dignity in 1997, but Brian May and Roger Taylor remain remorselessly active. Sometimes their stewardship has been a great public success – pioneering the jukebox musical, for instance – and sometimes it's felt more like the most dogged but pointless of May's many hobbies. This single, their only No.1 since the initial post-Freddie tribute era, surely falls into the former category. But hold on – the official Queen website has no mention of it. Nor does the band's quite thorough Wikipedia history. What's up?
A listen to "We Will Rock You" dispels any mystery. This is very much the sort of single you hope slips discreetly out of your discography. You could say it's the band's – and our – bad luck that it exists in the first place, since the record seems to rest on several terrible misconceptions, any of which should have been enough for one of Queen's advisors to veto Five from doing it. The idea, for instance, that "We Will Rock You" would carry more weight with its empty spaces filled by rapping. The idea that J from Five was the MC to do this job. And the idea that his band should drop their endearing goofball act and talk tough, matching the record's aggression blow for blow.
Being charitable, you can see a point here. The kind of old school hip-hop flow J adopts is a sort-of cousin to the boot-boy chanting of "We Will Rock You"'s verses. And some of the rap he evokes rests on similarly primal beats – the Disco Four even had a song called "Stomp, Stomp, Clap" and plenty of hip-hop has sampled or evoked the song. But let's not be too generous: this record is a shambles, and the best explanation for J's style isn't a deliberate retro move but a man whose idea of rapping and its content is showing off to mates in a Year 6 lunch break. His enthusiasm – often the saving grace of Five's clumsy, likeable pop – turns deluded here as he and his group adopt a ludicrous swagger. "Watch your back / We got Queen on this track!"
To which the only response – rubbernecking aside – is "why?". "We Will Rock You" is an odd fish even within Queen's varied and wayward catalogue. The track's mass adoption by professional sport has completely eaten its context, leaving something that's less a song than a rite, a kind of off-the-peg haka. Covering it catapults Five into a world of sweat and testosterone they're too callow for. The gurning, desperate face of Ritchie Nevile on the sleeve is a summary of the whole foolish endeavour (and this review).
It's tempting to look beyond the band, and identify the dread hand of Cowell in all this: in the X-Factor world,. "We Will Rock You" is no better quality, but a rather better fit. It's the kind of farrago that no-hopers in 'the groups' might trot out for 'Queen Week' before the public tires of them. The natural fate of this is three minutes of hooting, pointing and tweeting on a Saturday night. In that sense alone, "We Will Rock You" is a single ahead of its time.
2
Comments
«
1
2
All
«
1
2
All
Add your comment
Top of page