29
Apr 15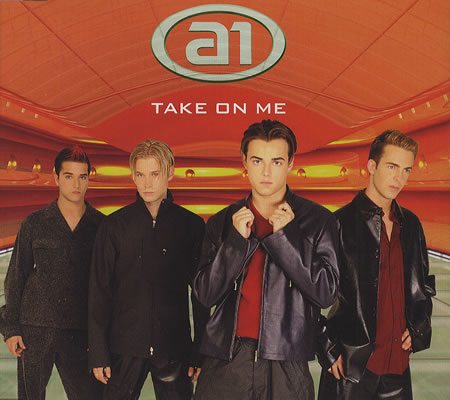 A single that's good for one thing, at least: "Which group got to No.1 with Take On Me?" is a reliably sneaky pop quiz question. Beyond that, it's tempting to dismiss A1's version as irrelevant. Doubly tempting if you were 12 in 1985, and the clean surge of that keyboard riff still sounded like the bright world of life and youth and adventure opening up in front of you. It's not that a cover version is any kind of sacrilege – just that you can't update the eternally young. But listen again and A-Ha's original sounds stuck in its time: the synthesisers thin, the drum sound hollow and deadened. That doesn't make it less glorious to me, it just reminds me of the work memory does in making songs great. Why not give new 12-year olds a chance for memories of their own?
That's the logic of the pop micro-genre "Take On Me" reminds me of: not cover versions so much as reboots. Sweden specialised in them: the A-Teens, four perky kids who mixed ABBA numbers with bouncy originals. Or West End Girls, two girls tasked with bringing a teenpop gloss to the Pet Shop Boys. If "Take On Me" wasn't by A1, you could imagine it as the launch single for A-Half, three jaunty, bright-eyed miniatures of Morton, Mags and Pal. The approach is identical: dusty 80s synths and beats swapped out for slightly clubbier, zippier 90s ones, and a match of proven songs with eye candy for tweens. It was good business, cheerful, and certainly cheap. And – for all you might sniff at it – actually quite hard to really fuck up from a musical perspective.
So yes, A1's "Take On Me" can't be the Proustian H-bomb of associations the original is for me – the pop memory is acutely attuned to texture and nuance, the detail of a track, which is why cheap re-recordings, Top Of The Pops Orchestra versions, and covers by "The Original Artists" can be so close and so wrong. But even so it's still the same song, the same alchemising of a brief fling into a fairytale epic. It has much of the melodic joy, some of the enthusiasm, even a bit of the charm. But it falls down badly on the singing – A1 are anaemic gerbils against Morten Harket's theatrical falsetto. (And in place of the romance of A-Ha's landmark video, A1 give us an excruciating cyberpunk riff, which makes no difference to the record but you should see anyway, just because it's funny.)
Still, their "Take On Me" is a creditable try. No shame on anyone involved. What it doesn't do is make the case for A1 as anything other than a lower-tier boyband. There was room for a tween-appeal group alongside Westlife's broader church, and A1 had already notched several hits, but Autumn 2000 was the peak for them. They came with two different marketing angles that didn't really work together – they had the wholesome cheek of early Take That, and they wrote their own songs. But writing your own songs only matters if you're good at it, and "Take On Me" was the first memorable record the band put out, even if the memories were all borrowed.
5
Comments
«
1
2
3
All
«
1
2
3
All
Add your comment
Top of page