2
Mar 15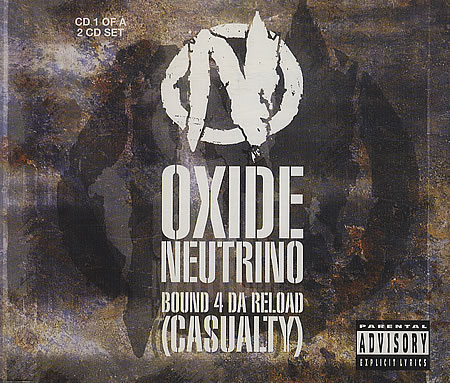 "Certain guys can't face the fact of what we've done
Sold over a quarter of a million
Casualty went straight to number one
And still they wanna cuss come on
Oh yeah about the Casualty theme?
Well no one controls the scene
So you do what you want and you do what you like and you do what you please" – Oxide and Neutrino, 'Up Middle Finger'
There's more than one way to make an 18 year old into a pop star. Craig David was a record industry dream – UK garage as a cradle for a new generation of international stars. Oxide and Neutrino represented a different future, one the biz had far less idea how to cope with in the long term. Though for now, and for the duo's record label East West, the success of "Bound 4 Da Reload" was actually business as usual: find a hot sound in the clubs or on the pirates, license it, push it onto the charts. The main opposition to Oxide and Neutrino's overnight success came from within garage – the pirates and the clubs in open disagreement. "Reload", belligerent, snotty and unsophisticated, was a flashpoint record for the scene's internal politics and anxieties.
So what was the problem? It was partly generational. A few months later, the duo scored another hit, their third: "Up Middle Finger" was a scornful, bitter attack on the garage tastemakers who'd disdained their debut. The people they had in mind were DJs in or near their thirties who helped nurture UK Garage into a take on dance music that balanced the soulful and the futurist. DJ Spoony of the Dreem Teem, for instance, whose recent elevation to Radio 1's resident garage expert made him one of the most powerful individuals in the country's pop scene – and who was not especially enamoured of what the younger MCs and posses (like Oxide and Neutrino's sprawling So Solid Crew) were doing. Those kids – late teens, early 20s – were starting to turn turning their back on the smoother 2-step sound and pushing darker, harder-edged elements from hip-hop and rave further up in the music.
It's possible to make too much of these internal divisions, to overplay how brutal a break productions like DJ Oxide's represented. After all, you only have to go back a year or two – to 187 Lockdown's thrilling "Gunman" – to find the mocking, timestretched samples, skeletal keyboard refrains and gunshot sounds of "Bound 4 Da Reload" on a Top 40 hit. But the split was real: there's no sign of Oxide and Neutrino on early 2001 compilations from established garage brands like Pure Silk or Twice As Nice, and "Up Middle Finger" showed how keenly the snubs were felt.
Outside the context of garage beefs and generational splits, in the wider world of pop this blog explores, "Reload" is a shocking, Martian interruption, the charts' transmitter suddenly hijacked. Again, you can overplay this angle. It's not the fact that a couple of kids had made a white label and hit No.1 that surprises, or even that it's kids from South and East London coming up via pirate radio. Tracks had been jumping from the pirate stations to white labels to the Top 5 for over a decade by this point. It's harder to imagine an Oxide And Neutrino style success now than it was then, but that's another issue.
But the explanations don't account for the sound of this thing. Other white label successes tended to be tracks whose pop qualities were a little more overt. When SL2 or even early Prodigy – the obvious precursor to Oxide and Neutrino, as the duo's "No Good 2 Me" made official – made it into the Top 10, their records worked as pop crossover. They were a dayglo filter on more subterranean activities. "Reload" has a massive gimmick for its hook – the theme tune from BBC hospital soap Casualty, which meshes with the production eerily well – but that's all it concedes to pop. The rest of the track is raw in a way number ones very rarely are. Most chart music colours itself in, filling up its spaces to fill the airwaves better. Not so "Reload", bumping along on deep bass that makes the track feel empty and jagged, its ideas and incidents splintered. A repeated sample from Lock, Stock and 2 Smoking Barrels blasts a hole in the song where its chorus should be – on the video, a bad-trip travelogue through a rave, kids bend double in agony when the sample hits, then look up and crack into a grin. The malign hilarity of the track summed up. "Reload" is – as much as a 250,000 selling record can be – hermetic, existing on its own terms not pop's or even garage's: you either know them, accept them, or turn away baffled.
Beyond its starkness, "Reload" has another weapon: its vocalist. Neutrino is not likely to feature on many lists of the great British MCs – his thick, phlegm-clotted rapping has never been especially expressive, and even within So Solid he was quickly overshadowed by other vocalists. But he's perfect and important here, because his flow on "Reload" feels so faithful to the sound of his era's pirate radio. Judging from surviving YouTube clips – it would be wrong to pretend I was there, listening, at the time – he has simply turned up and done exactly what he would have done over this beat, mid-show on Delight FM. It's in the way he rolls out the MCs arsenal, from prepared bars, to scatting, to call and response, to simply marking time over the beat – "Digga digga dee, digga digga dee". Neutrino is what turns "Reload" from a novelty into a snapshot. The only precedent I can think of for this at Number One is "The Special AKA Live!" – another short, unvarnished sketch of club music and subculture, plonked at the top of the charts with little compromise and less explanation.
And there's something else vital about Neutrino – the fact he's on the track at all. Oxide and Neutrino might not have been the first kids to break from Brixton bedrooms and parties into the Top Ten, but however important MCs were on radio or in the clubs during the rave era, they hardly made it onto records. With the rise of MCs on record, UK garage and its people had a voice, a host of voices. Once that door had opened it would be hard to close.
8
Comments
«
1
2
3
All
«
1
2
3
All
Add your comment
Top of page