26
Mar 15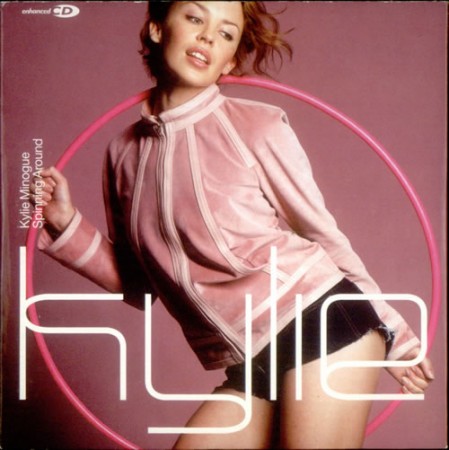 Most comebacks risk being overshadowed by the past. To find its distinct identity, "Spinning Around" has to battle the future. The second phase of Kylie's career pivots on one single, and we're a year out from it, but the gravity of "Can't Get You Out Of My Head" makes this nimble disco-pop track sound more a cautious herald than a triumphant return.
But in its moment, people looked very kindly on "Spinning Around". The idea of a sophisticated, mildly indie-fied Kylie had proved more enticing than the commercial reality. For all the intrigue, risk and personal involvement of the singer as presented on Impossible Princess, the Kylie held in public affection was a cheerful pop performer, not an act prone to experiment. So Kylie presented "Spinning Around" as a rediscovery of core principles – an up-to-date execution of what Kylie fans had gone for in the first place. If a twelve year old had liked "I Should Be So Lucky", then here was a song her twenty-four year old self could dance to on a Friday night with no irony or hesitation.
That's a conservative impulse, but not a retro one – sounding like SAW was never on the cards. It's also a more businesslike approach than the indie-Kylie years, a conscious affirmation of the brand values of Kylie, Inc. "Spinning Around" is smoothly on-trend, a confident glide around the disco revival's boutique of sounds. For me, it comes to life when the Zapp-style vocoders arrive, with their ability to turn any rote lyric ("Baby baby baby… you know you like it like this") into a burble of robot delight.
But this was always my problem with Kylie – her thin, pinched voice, present and unchanged on most of "Spinning Around". I don't find this a heinous single by any means, more a dreary, cautious one, whose success feels like a vote of confidence in Kylie Minogue in general, an affirmation that people still wanted a pop world with Kylie in it. That's an achievement in itself, given that the music she arrived with – SAW's aggressively brash pop – had taken such a mauling from fashion. But Kylie's gift as a pop star – the point of her, even – was always how unusually likeable and straightforward she was. That had its downsides, as the cool and rather sniffy reception for Impossible Princess showed. But it also made her easy to forgive. "Spinning Around" was an ordinary single, but it did that job at least.
5
Comments
Add your comment
Top of page