4
Mar 15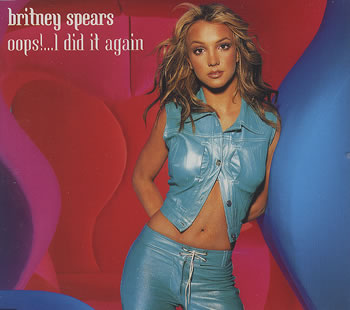 How do you follow "…Baby One More Time"? Perhaps you can't. Britney Spears' second album splits the job, starting with two songs that plainly exist in "Baby"'s shadow. One is an overt sequel, "Stronger" – eager, catchy dance-pop that's more upbeat than the first instalment: "My loneliness ain't killing me no more", Spears sings. Glad to hear it. The other is "Oops… I Did It Again", which hit listeners initially as a straight-up clone of "…Baby One More Time": the mid-paced, dancer-ready stomp, the melodrama, the end-of-song pile-on. And as that half-mocking title signalled, the song knew it.
The similarities weren't enough to dismiss "Oops", because if you copy a classic you might easily end up somewhere very good. Clone or not, "Oops" became one of Britney Spears' signature tracks – a highlight of her tours and now her Vegas residency. But the resemblance meant that what "Oops" does differently – its startling gamble with its breakdown, its development of the singer's persona, and the uses it starts to find for her voice – was overlooked.
But if Max Martin had somehow restrained from ripping himself off for Britney's comeback, he'd have been the only one. "Oops" sounds a bit like "….Baby One More Time". But by Spring 2000 half the charts sounded a bit like "…Baby One More Time". British acts showed themselves especially keen students of Martin's Cheiron studios and the new Swedish pop. It worked, too – several upcoming number ones come decked out with Cheiron-style crashing chords and floor-friendly melodrama, crowding out more authentically Max-factor productions from the Backstreet Boys or N'Sync. "Oops" was never likely to end the sound's hot streak.
You need to look at a different Britney song to best understand how the Max Martin approach worked and how it could fail: "Satisfaction", her Rolling Stones cover. Just as "…Baby" or "Oops" don't, in fact, reveal more of themselves when covered by a dude with a guitar, so "Satisfaction" exposes the methods and limits of the sound by breaking a great pop record upon its wheel. The Cheiron style is built around an excess of emphasis – massive boldface syllables, power chords, and single steam-hammer beats all hitting in unison. Tightly choreographed formation dancing – freezing into shapes or throwing down on the heavy beats – completes the effect. "Satisfaction" shows what this can't do – the Stones' track doesn't have the primary-coloured chords that Max-pop needs, and is front-loaded with Keith Richards' riff, which Britney's cover simply can't find room for but – fatally – can't replace either.
But listening to a misfire like "Satisfaction" leads to a better appreciation of Martin's tricks and tics, too. In the great Cheiron numbers, the first half of a song uses the bombastic emphasis to crank up tension, which breaks near the end – often with a key change – to give the climaxes of their tracks their delirious potency, as every hook rains down at once like a videogame combo attack. Like glam rock, it's an immediately recognisable, and not terribly subtle style, and like glam, it enjoyed a brief moment of unmatched pop dominance.
Digging into the Max Martin and Cheiron way of pop is important, because "Oops…I Did It Again" uses and plays with it so magnificently. For me, this is a peak of Britney and Max Martin's early careers – just as good as its template, perhaps better. As a piece of classic pop songwriting, "Oops" is inferior – "…Baby" has that dynamite sixties melodrama going on, and it feels so complete and satisfying it's irresistible. But "Oops" takes it as a model and vaults it, going beyond its aspirations to lay foundations for the rest of Britney's career.
For a start, she actually sounds happy on it. Her singles had been a sequence of teenage agonies, with "Born To Make You Happy" pushing her melodrama to an unnerving limit. "Oops" goes in a completely different direction – now she's the one in control while her luckless boy makes a fool of himself. "Oops" isn't a word you say when you sincerely regret anything, and Britney clearly doesn't. It means she gets to sing the song in a rather different way from earlier singles – breaking out a sarcastic snap that'll end up as one of her most recognisable styles. She still flirts with melodrama – "To lose all my senses…" – but knowingly undercuts it, makes a joke of it – "that is just so typically me."
This shifting vocal style finds an echo in the record's production: this is the single that begins the journey to the cut-up, fractured vocal lines of Spears' great mid-00s records. Take the sequence at the start of verse two: "You see my problem is this" – sly and crackly, confidential. "I'm dreaming away, looking for" – the callous nasal jab that's her main "Oops" register. "Heroes that truly exist" – a multi-tracked swoon. The form of the song – Britney's voice flitting between styles – mirrors the content – Britney as a girl gleefully trifling with her suitors. Max's lyrics aren't brilliant – when are they ever? – but Britney's singing and his production are a potent combination.
As Diamanda Galas – a woman who knows a thing or two about the uses of the unnatural sounding voice – said with approval, "She doesn't even sound human!". Galas delightfully characterised Britney as a producer's "sick dream", a "radioactive worm", and these unlikely compliments get to the implications of "Oops". What "Oops" is doing with its vocals is picking up on the potential of Cher's "Believe" – moving away from the idea that a pop single should pretend to be a recording of a single, replicable performance. On the instrumental side, this illusion had fallen away a long time before. In dance music, loops and cut-ups and stretching meant that vocal naturalism was strictly optional. But in pop, there was still an implied hierarchy. The lead vocal was more important than the backing, which was more important than the video, which was more important than anything else the star did.
"Oops…I Did It Again" doesn't dissolve that hierarchy entirely. But it presents a strong challenge to it. Not just in the vocal – whose treatments are quite mild compared to later Britney Spears tracks – but in its most audacious trick, not writing a breakdown at all and instead churning to a halt, then cutting to video dialogue with a sudden "All Aboard!" As the "Oops" chords bubble softly around them, Britney and her doe-eyed suitor discuss the gift he's brought her. Not just any gift: The Heart Of The Ocean, the necklace from the film Titanic. The dialogue makes this absolutely obvious to anyone who's seen the film – which is most of Britney's audience, you figure. And Britney's response to this impossible gift of the most symbolically romantic object in the entirety of late-90s pop culture? A slightly exasperated, "Aw, you shouldn't have."
(Just to make it even more absurd and amazing, in the video, all this is happening on Mars.)
Britney doesn't perform this section live – in a gig environment, "Oops" gets forced back into song-shape, which emphasises how much the section breaks that shape on record. It's a deeply weird moment – not even a spoken word section a la the Shangri-Las, more like a skit stranded in the middle of a track. It's simultaneously clumsy and swaggering – Britney casually hijacking the biggest film of all time – and it explicitly declares that "Oops"' as a song is a soundtrack to its video. Which in the era of Total Request Live and its UK equivalents, was a fair acknowledgement of how fans would encounter it.
The spoken video breakdown isn't a trick Britney, Max Martin or any of her other collaborators would revisit – it risks the momentum too much. But in this one case, it works. The dialogue is such a perfect capsule of the song's theme, for one thing – look how far this guy will go, and look how awkwardly misguided that is. But also the interlude does the exact job a bridge would do and does it splendidly – pausing the song so it can return stronger. If the first half of "Oops" is a patchwork of new ideas and old, its climax is the Cheiron pop machine on booming form. Once again, the idea of the lead vocal as the core of the song is dropped – the back end of "Oops" is mostly carried by backing singers, with Britney contributing licks of vocal fry at its edge. It doesn't matter – any more than it matters that, when the massed vox come in after the break,on a modified chorus, it's the same payoff trick as on "Baby One More Time". It's still the most joyful trick around, and Britney and Max work it even better. The skipped beat on the title – "Oops I — DID it again to your heart!" is my single peak moment of this whole wave of pop. Even when I've listened to the rest of the song so much it can only sound harsh and draggy, that tiny, explosive pause pulls me back to loving it.
We'll be seeing a lot more of Max Martin and of Britney Spears. None of their later work together – before or after her breakdown and comeback – has the bright, self-aware confidence of "Oops", a collaboration between a producer and singer both flush with early success and keen to consolidate their position at the very heart of pop culture. It would soon be time for Max to find other singers, and for Britney to decisively break from the "…Baby One More Time" model. But "Oops" was never meant to be that break – its new ideas and laugh-out-loud cheek are a freebie. Its only job was to be a triumph, and it is.
10
Comments
«
1
2
3
4
All
«
1
2
3
4
All
Add your comment
Top of page