20
Feb 15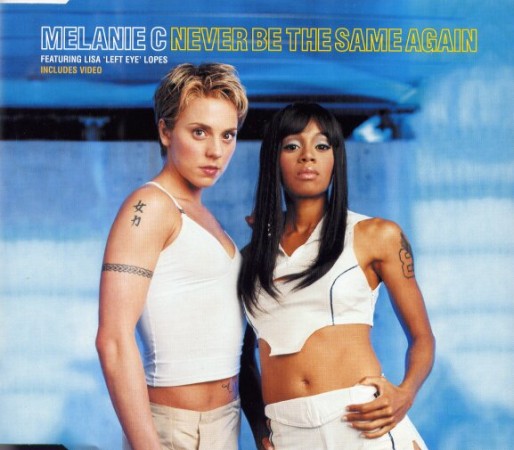 Left-Eye first: again, a major figure in 90s American pop shows up here as a cameo on a solo Spice single. This time, at least, you're left with some idea of what she can do. Left-Eye's elegant doodle of a verse is dropped into "Never Be The Same Again" before the final chorus, and makes for a pleasant but slightly flummoxing cameo. It's the most skilful rapping on a Number One for five years, it's delightful hearing that quizzical voice hopping around her rhymes like a kid over stepping-stones, and it maintains a polite distance from the entire rest of the song.
The 90s saw a few of these bolt-on guest spots, and the 00s will see several more – American rappers enjoying a minor payday by lending credibility to a foreign pop single. This is one of the better instances, though I'd guess all Lopes knew about the track was a broad outline of theme and the fact she was lining up with a Spice Girl: "The US, the UK…". A closer collaboration might have sparked, or might have shown Mel C up – TLC's playful but uncompromising "No Scrubs" had been one of the touchstone records of 1999. Its no-nonsense negotiations of money and responsibility made the Spice Girls sound callow, along the way jangling men's nerves in a way Mel's old band never really had.
As it is, Left-Eye stays discreetly out of the way, but "Never Be The Same"'s backing track owes a big debt to 90s R&B. It's as much the other end of 90s R&B, though – producer and co-writer Rhett Lawrence made his name and enjoyed his greatest success working with Mariah Carey at the start of the 90s, and his forte was big ballad-paced tracks, with none of the springy inventiveness or intriguing sonics you hear on TLC or their contemporaries. Lawrence looked to be firmly in his late career when Melanie C crossed his path, doing bits and bobs of soundtrack work – the success of "Never" at least got him in the other Spices' rolodex, and he produced tracks for Victoria and Emma.
So it's no surprise that Lawrence's work on "Never Be The Same Again" sounds a little rote: a chug for multi-tracked Mel Cs to hang the melody on, with a twisting acoustic guitar line that sounds like a slothful take on the strums that drove "No Scrubs". In fact the whole production is awkwardly sluggish, its trimmings of scratches, high P-Funk keyboard whines and chiming percussion all somehow ponderous, like it's faltered a few BPM short of its intended pace. But the curious thing is that the song, and its sounds, work unexpectedly well. The deadened rhythm accentuates a tension, an off-ness in the record, fans it until what Mel C is feeling is more dread than anticipation. "Never Be The Same Again" sounds as much a ghost story as a love story. "It's not a secret any more / Now we've opened up the door".
There's precedent for this – both in the list of number ones (the haunted moorlands of "Johnny Remember Me" and "Wuthering Heights", the crepuscular dancefloor of "Ghost Town") and outside it. The single that best captures "Never Be The Same Again"'s mix of thrill and fear at an unexpected choice is ABBA's magnificent "The Day Before You Came", where sudden, keening backing vocals add the necessary touch of the gothic. (There's no decision or sound so startling on "Never Be The Same Again" – in fact Left-Eye's offhand intervention gentles the song's rising, baleful pressure.)
All these songs I've been mentioning are masterpieces. "Never Be The Same Again" is not quite that, but it's atmospheric enough to be compelling, and an easy standout among solo Spice tracks. It really has something, and a big part of that something is Mel C herself, who steps out of her role as the Spice Girl belter to deliver a much softer, more controlled take on a song. It's not the kind of record I might have expected the strongest voice in the group would make – though as we'll see, there's really no such beast as a typical Mel C single – but it is proof she was the most versatile too. By using her other voices – a falsetto register, and the more rasping, knowing tone she sometimes used on Spice singles – to act as tempting counterpoints to the lead vocal's hesitancy, she gives "Never" a seductive sense of depth. It's a sensation that's precious in pop, however slight it is – the sense that below this single's placid surface, uncanny feelings lurk.
7
Comments
«
1
2
All
«
1
2
All
Add your comment
Top of page