8
Dec 14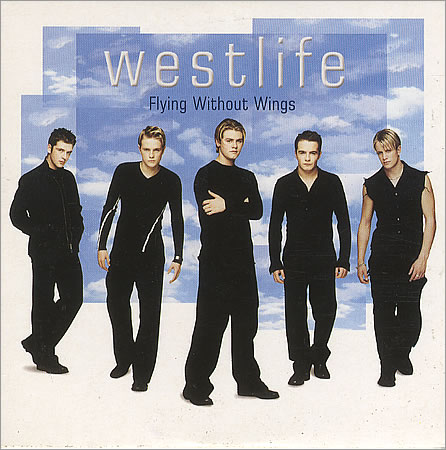 If the abundance of Westlife could be narrowed down to a mere one signature hit, "Flying Without Wings" is it. Written by British ballad king Wayne Hector, it's the one original song of theirs to become a reality pop staple and be picked up by other singers. It's audibly more effortful than either "Swear It Again" or "If I Let You Go", and it pushes Shane and Mark – who, yet again, do most of the vocal work – a lot harder than before. Mark especially takes this as an opportunity to go the Full melismatic Monty, turning his lines into chest-thumping note-drenched cascades of passion. (Their raw gospel power slightly undermined by his pronouncing "morning" like Officer Crabtree off Allo Allo).
On every level, it's a whopper: the arrangement sounds like someone has finally persuaded Simon Cowell that to go large you have to spend money sometimes, and the sentiment – everyone has something that makes them happy – is as big-tent as Westlife have ever managed. And it's this blunderbuss simplicity that makes it the first Westlife single I've really disliked. It's well-constructed, efficient at what it does, but it lacks even that slight grain of the specific that their first two hits had. The song builds up to the reveal of what it is that makes the boys themselves happy – surprise! It's "you" – and their close-harmonied frenzy on this point thrashes the song to bits. There was a tension in "Swear It Again" and "If I Let You Go" that "Flying Without Wings" drops completely: it's homily, and massively overwrought homily at that.
But at the same time, it's an obviously more confident and viable sound for them than the second-division boyband pop of "If I Let You Go", and a bigger blockbuster than "Swear It Again". And it suits them as vocalists – just imagine Ronan painfully growling his way through this, and be thankful. In fact, it seems to me that a lot of the band's subsequent career will be spent hunting for songs as universal in theme and broad of base as "Flying Without Wings". But this is where being outside that intended base is a disadvantage for me: the more Westlife find themselves, the less I appreciate them.
3
Comments
Add your comment
Top of page