14
Dec 14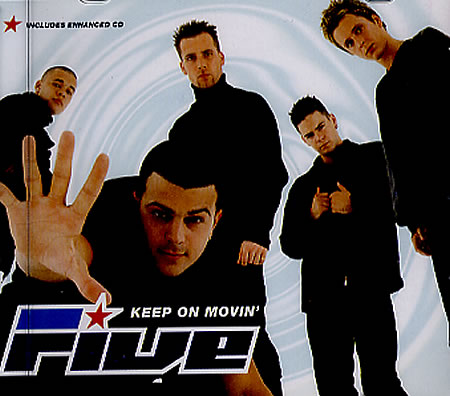 Between the smothering devotion of the Irish boyband model, and the slick looks and top-dollar sounds of the American one, a glut of likely British lads struggled for an angle. In general, the Take That vs East 17 rulebook still applied. Groups continued to split between street-smart loverboys (Another Level, Damage, Blue) and wholesome but cheeky (Let Loose, 911, A1). More often than not, bands rose and ebbed with hardly an idea to their name.
Five (aka, sometimes, 5ive) are from one angle the most typical 90s boyband, and from another the most likeable. They were managed by Simon Cowell, but he seemed to hold them in some contempt as feckless underachievers, particularly after they turned down the chance to record Max Martin's "Bye Bye Bye". Cowell's disdain is an immediate point in their favour, but there really is something a bit shambolic about 5ive – a band who never quite convinced as smooth or chirpy, who never settled on a style, whose most consistent musical feature was "J"'s confidently basic Dad-rap, and who ended up having to perform their final videos with one member replaced by a cardboard cut-out.
And yet, a Five Greatest Hits album will give you more fun than any other 90s UK boyband, more famous or less. They made cut-price, supermarket own-label pop-rap that made Will Smith sound like Mobb Deep, but they never skimped on hooks, kept the gloop to a minimum, and didn't come across as arseholes. "I know it's not much," as "Keep On Movin'" puts it, "But it's OK". There was never even a hint they might produce a classic single, but I find their success impossible to begrudge. And, gratifyingly, this first number one is their best record.
Some other 5ive hits stumble by going too far down one or other of the classic boyband routes – "If Ya Gettin' Down" glowers unconvincingly at you; "Got The Feeling" heads winsomely in the opposite direction and ends up as a primary school singalong. "Keep On Movin'" dodges the decision entirely. It has a simple idea: times are tough, let's get through them. In itself not unusual – it's the same basic idea as the first two Westlife singles. But in 5ive's case the problems aren't romantic, they're more existential. And the solution isn't redoubled devotion, but a humble sense of muddling through together with your friends.
The music works, too: a zither-y intro leading into a jaunty, drums and strums confection with an easy bonhomie (that reminds me, pleasingly, of Haircut 100). It's all packaged up in a typically Five-ian way, with goofy and whiskery rhymes and ramshackle lads-together harmonies, but at its heart "Keep On Moving" sounds to me like a clumsy, sincere attempt to get people cheered up. And, what's more. It succeeds on me. No, this song isn't much, but it's more than OK: it's a tonic.
7
Comments
Add your comment
Top of page