2
Nov 14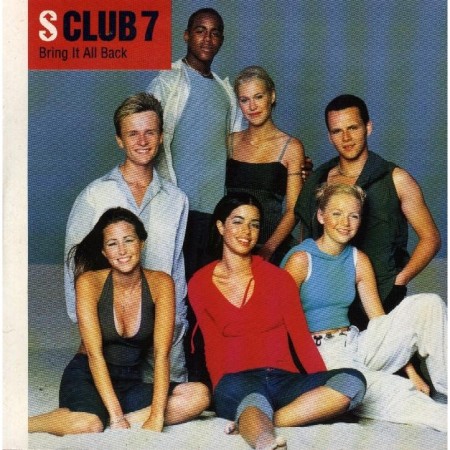 Simon Fuller claims that the idea for S Club 7 came to him the day after the Spice Girls fired him. It's a typical bit of entrepreneurial storytelling – the darkest moment is always another opportunity, don'tcha know? But it's a useful comparison – if you want to know what the Spice Girls brought to their music, contrast them with S Club. Out with distinct personalities, in with colour coding. Down with the modern, up with pastiches. Away with girl power and the pop of everyday life, bring on pop as everyday life: a meta-pop TV show, Miami 7, starring S Club as a pop group trying to make it in the US.
S Club was a kids' TV project beyond anything else – a popular teatime show which happened to leave a profitable vapour trail of records. Consulting those parts of the Freaky Trigger cabal (thanks Hazel and Kat!) who saw Miami 7, it was either great, or a bit less crapulous than the stuff broadcast next to it: a success either way. But the songs from it are doing the job the songs in kids' shows always do – breezy, catchy opportunities for a montage or a happy ending. And snipped from that context, S Club records were enjoyable without ever risking being good.
"Bring It All Back" is a case in point. It's the theme from Miami 7 – a sensible choice of debut, since it's the tune most likely to be lodged in viewers' minds – and it's a take-off of "I Want You Back" by the Jackson 5, the youthful members of S Club pitching their voices even younger and more eager, trying to catch some of Motown's joyous lightning. On the one hand, "I Want You Back" is a great song to steal from, because it's amazing. On the other, stealing from it this faithfully is as good as saying, "we have no ambitions here whatsoever beyond imitation". So this is what the Spice Girls themselves gave to a Simon Fuller project: risk. Without them, he plays it mechanically safe.
4
Comments
«
1
2
3
All
«
1
2
3
All
Add your comment
Top of page