20
Oct 14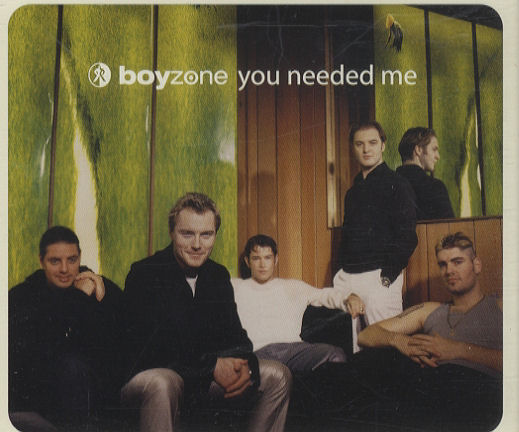 There's no "Goodbye" or "Never Forget" for Boyzone, no bravura statement of a legacy: that legacy, after all, was happily preparing its second single. Ronan and the lads' final release missed the top, but as a valediction, this will do. It's a cover of a string-soaked number by Anne Murray, a country-esque hit (Grammy-awarded, no less) from the 70s heyday of Tammy or Dolly. In either incarnation, it's something of a slog – a pretty, wistful melody laden down by a glutinous arrangement and a lyric that peters out. Under Boyzone's care it's basically a Ronan spotlight number – so whether intentionally or not it feels like priming the audience for the imminent solo career.
But Ronan takes "You Needed Me" to different places from Murray, which makes this an unusual Boyzone single and a better goodbye than they deserve – for once a cover version they've put their own, perhaps stronger, mark on. Where Murray's cool, unwavering vocal takes her lover's devotion as a source of surprise and quiet strength, Keating sings the song in a wounded growl, making you notice what Murray doesn't stress – the title is in the past tense. Someone needed Boyzone once, and they do no longer. The fans? That's an obvious answer – "You Needed Me" as Boyzone's version of The Smiths' "Rubber Ring": don't forget the songs that made you cry, and the songs that saved your life…
There's something else happening, though. If you mixed Anne Murray's sweetly patient singing and Ronan's bereft take on "You Needed Me", you might get somewhere near another 1999 ballad, Sarah McLachlan's Toy Story 2 soundtrack hit, "When She Loved Me". "You Needed Me" isn't nearly as brutal as that, of course, but it frames Boyzone's song in a different way, as sung not to the fans but to Louis: the lament of discarded toys, sinking to the bottom of the box, remembering happier times before they were replaced.
3
Comments
«
1
2
All
«
1
2
All
Add your comment
Top of page