4
Aug 14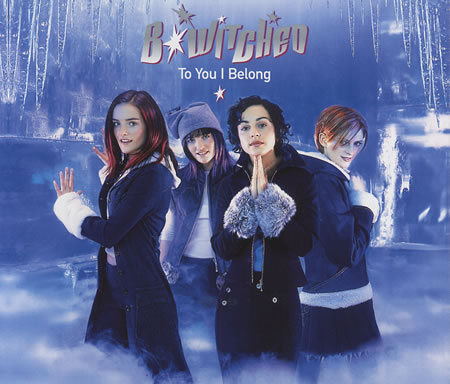 The wintry sleeve and video make the game here obvious even if the song doesn't – B*Witched's third single is a notional shot at the Christmas Number One. Its chances were ceremonial – as a release date politely ahead of the Spice Girls' post-Geri blubfest suggests, "To You I Belong" was only ever expecting to be a runner up on the big day. As an unofficial teaser, though, it had the desired commercial effect, nudging Cher aside for a modest week.
So it's worth pointing out, before we take on the final Spice Christmas event – and since "Goodbye" is interesting in mostly unfestive ways – how the girls had locked down the idea of the Christmas Number One, to the extent that B*Witched putting their first big ballad into the Christmas chart scramble seemed absolutely sensible. It's not the Spicers' most notable achievement, spotting a market for mistletoe balladry and playing it straight (no plastering these records with bells, thank goodness), but it worked for them very well.
Like "2 Become 1" and "Goodbye", "To You I Belong" has nothing to do with Christmas, beyond an inkling that some of the single's buyers will be hoping for a holiday snog. Instead it's the B*Witched song where they go full Celtic Moods, taking the "My Heart Will Go On" production blueprint and unabashedly rolling with it. The needles are pushing fully into the emerald here, to an extent even the Ireland Eurovision committee might blanche at. As is becoming traditional with B*Witched, I think it's rather good. There's a lot of the same first-romance wistfulness here as in "Viva Forever", and if the tune isn't as memorable as Celine's the performance is better for being less imperious. Only the click-clack unfolding of an utterly standard 90s ballad beat does much to kill the mood. Not for the first time, the ersatz Spice Girls come enjoyably close to stealing big sister's clothes.
6
Comments
Add your comment
Top of page